With 6 rounds of the MSV Trackday Championship down, after some great battles over in Holland at the fantastic Zandvoort Circuit back in October (which you can read about it here), we were going into the final round in a great position, with a lead of 12 points (9 with my dropped score).
The season finale, Round 7, is always held at Brands Hatch in Kent. This and the season opener at Donington Park are the only dates where the SuperCup and Trackday Trophy races are also on the same day. It would be rude not to try and do all 3 don't you think, what is the worst that could happen? The timetable is below, it was going to be a busy day for us all!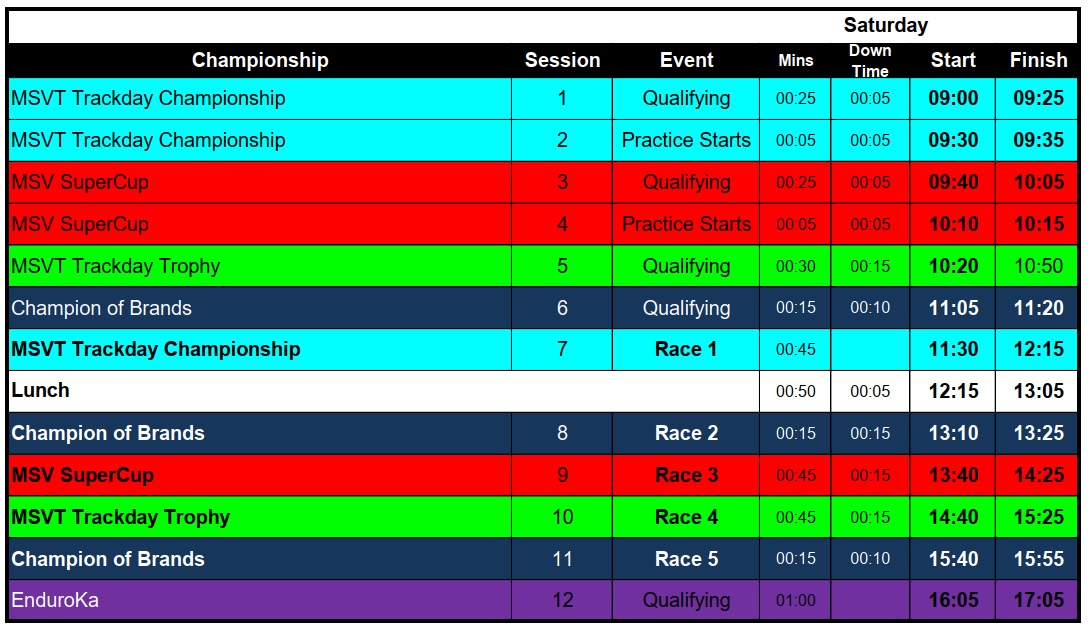 Below is the layout of the Brands Hatch Indy Circuit. With dry lap times at less than a minute, the laps soon add up!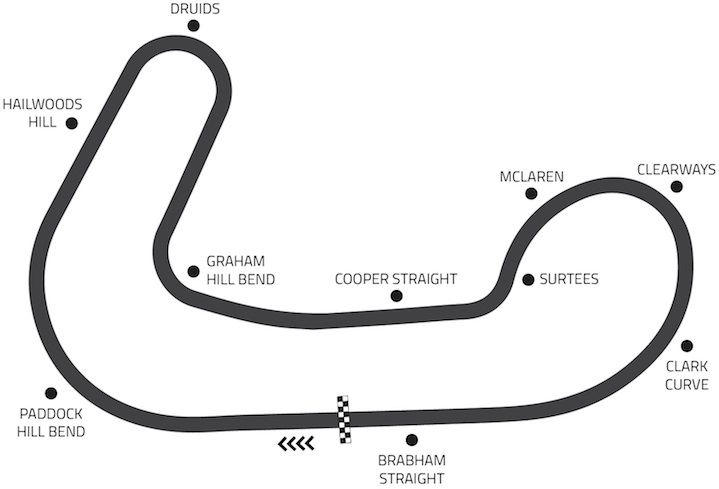 We did some testing on Friday afternoon, but as we had the Golf and Leon to test as well, I only did 27 full laps, with a best time of 1:07.12 in the worst conditions I have ever driven in. It was not raining very hard, but the track was so greasy and unpredictable! I kept it on track in the Ibiza, but driving the other cars, I spun at every corner at least once. I was not feeling confident for the race, that was for sure!
We made some changes to the car overnight, mainly softening everything up to get some temperature in the tyres. This seemed to work well, as I managed a 1:04.19 with the Racelogic VBOX ideal lap time showing 1:03.55, most of the time to get to the ideal was around Paddock Hill Bend, where I had been 0.58s quicker on a previous lap before having a big slide at Graham Hill Bend. I knew I could improve my lap by a fair margin even losing time into there, so I took it easy then pushed harder everywhere else.
If I could have clawed that time back at Paddock, I may have been able to jump to 4th position, but there was no way I could find 2.5s to get me to pole. I had to leave that to Ben Davis, which meant giving him an extra championship point.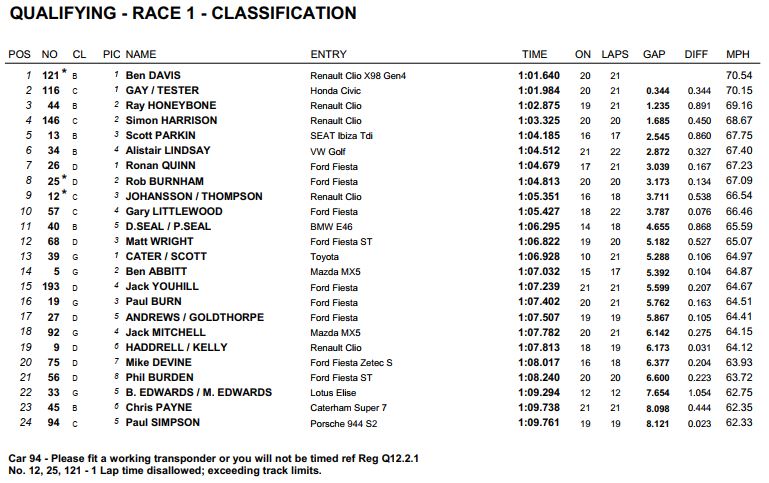 Sam Gay and Colin Tester put in a great time in the tricky conditions for 2nd position. When it is not dry, power is not everything so the grid ends up all over the place. It makes for an interesting first corner!
The laptimes were up and down as I slowed to get some clear air, which is difficult on such a short track with 24 cars all trying to do the same! I was on row 3 of the grid, behind everyone I needed to beat! Least I was on the inside line for turn 1. Normally I would be getting the VBOX data out at this point, but we were straight into Quali for the SuperCup, so I left the Ibiza in Parc Ferme with Rob and jumped into the Golf for my half of the stint in there.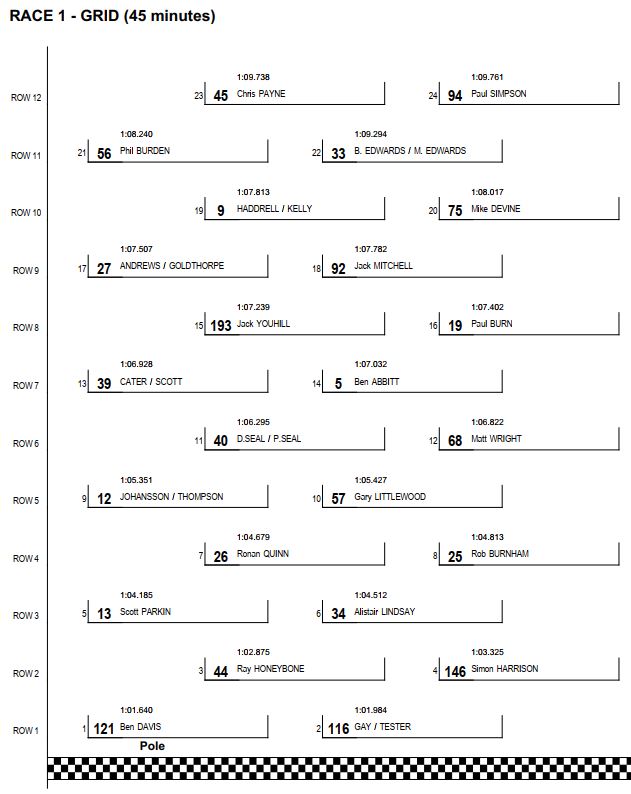 On to the Race - Sat on the startline I was aware that in P5, the grid slot was in the dip, close to the wall. Basically no mans land. The dry line was at least a couple of car widths to the left. It was not going to be easy getting going. As expected, the lights went out and I reacted pretty well, but the steering wheel was ripped out of my hand and the car pulled badly to the right near the grass. I managed to correct it and was quickly in front of Jordan Honeybone and Simon Harrison in the Clios. P3 - 2 more to go! We were all cautious through Paddock and back up the hill. I decided to keep the inside line in case Simon took a lunge into Druids. I defended well and closed the gap on Sam Gay in the Civic before he understeered slightly on the exit of Graham Hill Bend, allowing me past on the Cooper Straight. P2 - I could just stay here and the title would be mine, even if Ben Davis got the hat-trick of Pole, Fastest Lap and 1st Place.
On the exit of Clearways I pulled a decent gap of 0.6s on Jordan Honeybone, who had out-dragged Sam over the Start / Finish line. Jordan was pressuring me slightly over the next few laps as Ben increased his lead to over 2s. After 4 laps the safety car was out while they pulled the Fiesta of Rob Burnham out of the gravel at Paddock Hill Bend. This allowed me to close the gap on Ben, as well as retrieve the phone mount that had broken off and got wedged under the pedals! 2 laps behind the safety car and the lights were off, so we weaved around behind Ben, waiting for him to make his move. He half caught me out so had the jump on me as we raced down the pit straight, pulling a gap of 0.45s. Luckily Jordan was caught out behind me and I had a 0.536s gap on him, Ben seemed to be really struggling in the braking zones, so we were almost bumper to bumper in places. The gap down to 0.285s. He struggled into Druids again and I closed the gap even more, but a few small mistakes from me in the next few corners meant the gap was back to 0.462. The gap stayed pretty much the same over the next few laps, with me taking over the fastest lap of the race on Lap 10 by 0.002s. Lap 12 I closed the gap even more and punched in a 55.580, so there was 0.280s between us. I contemplated coming in as by Lap 16 the Pit Window have been open for a few minutes and we were coming up to some Class D cars to lap them. However I figured that we were not really holding each other up, just racing at a good pace close to each other. A few more laps wouldn't hurt! We passed a couple of Fiestas over the lap, then Ben made a mistake in the braking zone at Clearways. This was my chance! I took my normal line as he went wide. I think he thought about shoving me closer to the wall than I would have liked, then back off. Braking into Paddock Hill we were extremely close to touching. Ben won the bravery battle there and swung around the outside. He quickly cut across to defend into Druids, knowing if I had the inside line the corner would be mine. He outbraked himself and opened the door for me to take a slightly tighter but faster line. Down the hill into Graham Hill, I was back in front! A few laps later, as we came into Clearways, the Yellow Flags were out, and the Safety Car lights flashing. Someone had been a bit enthusiastic into the pits and knocked the barriers into the track! Perfect time to pit! I decided to wait until the Safety Car picked us up, which at Brands is at the start of the Cooper Straight, not the Start / Finish like most circuits. As we went around Clearways, I dove into the Pit Entry as late as I dared, hoping Ben would stay out but he followed!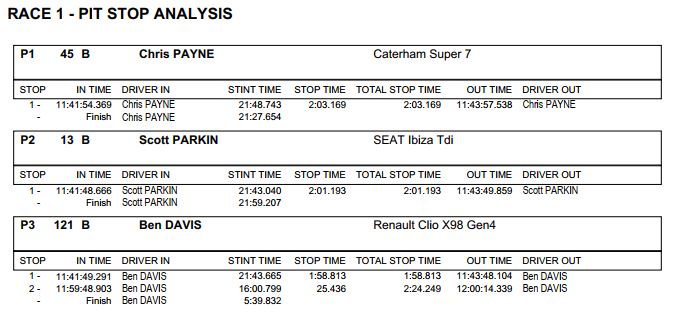 We are required to do a minimum 2 minute pit stop from Pit Entry to Pit Exit. I had hit my timer at bang on the right point, so it was a case of holding back and judging the right time to set back off so I crossed the line as close to 2:00 as possible. In this case I did a 2:01.193. Ben had come in the pits behind me, but set off in front. I knew he must have had a short pit stop as he was way in front of me. Overtaking in the pit stop is pretty difficult when the times are close to two minutes.
As I exited the pits, we had a pretty clear track in front of us, so the battle started again. Ben had pulled over 1.3s on me straight away, then another 0.5s on the next lap. He was pushing hard so must have known he had a short stop. I was taking it easier as I knew he would be taking a penalty at some point. Unbeknown to me at the time, Chris Payne in the pink Caterham had come from 24th on the grid (after a bad setup choice during qualifying) to 3rd. I saw him in my mirror on Lap 26, and knew if he had climbed so high in the last 30 minutes, he would have been lapping way faster than we were. It turned out he was doing 54s, so almost 1s quicker than mine and Ben's times. I decided to let him go after Ben rather than defending. It was a risky move, as I knew that if he didn't manage to get round, and the race finished with me in 3rd, I would have lost the Championship. It all was in the hands of someone else! Knowing that Ben would be getting a penalty as well, a minimum of a drivethrough, as a backup, I needed to stay within about 20s of Ben so I would be ahead after that. A yellow flag into Clearways meant we could not overtake traffic as quickly as we would like, but we all had the same issue. I also had to be wary of the two battling MX5s who were still in their own race, so I didn't want to impede them as I passed. By lap 29 I could see that Chris was right on Ben's bumper so I was taking it easy to make sure I stayed on track. Ben got lucky with the traffic through the Yellow Flag so had pulled a 2s gap on Lap 31 but with his pace, he set fastest lap after fastest lap to claw it back to 0.1s. As they started Lap 39, Chris had jumped Ben into 1st Place. All I needed to do now was keep it on the track! Ben served his 2s Stop Go Penalty, so I also jumped him. He had almost 9s to make up in around 3 minutes, a tall order but not impossible. However, even if he did, I would still be champion as I had a 9 point advantage. As the clock struck 00:00 the gap was 6s, that was it, I took the chequered flag in 2nd position and the 2019 MSV Trackday Championship Title!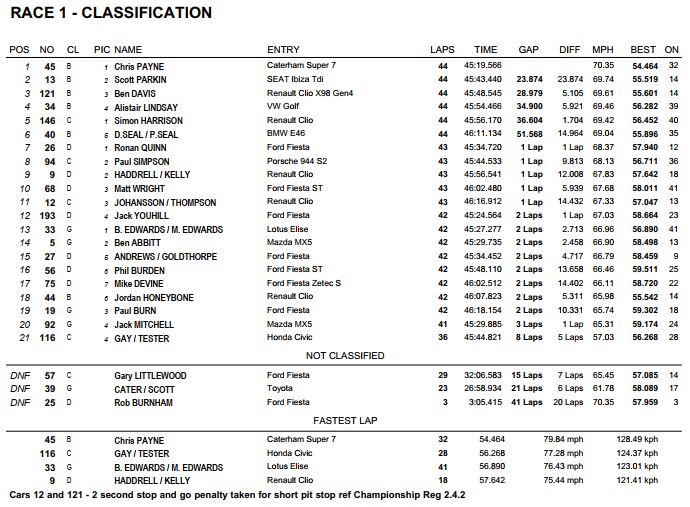 As you can see from below, the 3 quickest laps were while I was battling with Ben. I ended up with the 2nd fastest lap of the race as well. After the Pits I had backed off by 1 to 2s a lap as I knew I didn't need to push too hard. If I had ended up in the gravel, I would have thrown the championship away for sure!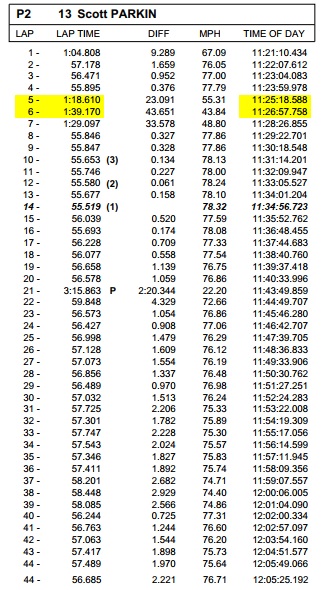 I scored 31 points for coming 2nd overall (27 points + 1 point will be awarded for each competitor beaten in class up to an additional 5 points, as per the regs - there were only 4 cars in Class B behind me in this race).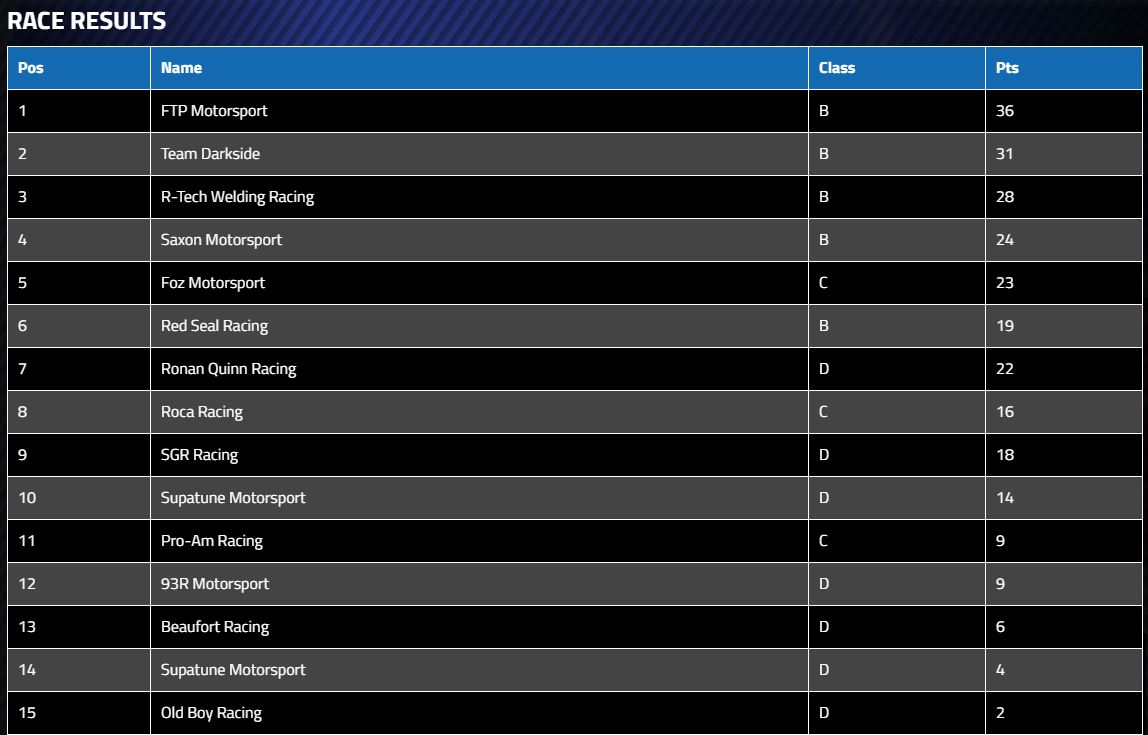 The full race is shown below. We would normally have added the commentary from TSL Timing, which adds to the experience, but it didn't seem to record this time.
As we brought a big team of guys as well as friends and family, we have 1000s of photos and videos to go through. Some of them are below.
With that, my 9 point advantage was 12 points after dropping the disappointing 3 from Round 2 at Snetterton. I finished on 170 to Ben in 2nd on 158. Simon Harrison in the Class C Clio was pipped at the last round by 2 points to finish 3rd overall, but 1st of the Class C cars. Chris Payne in the Caterham had jumped to 4th above Jordan Honeybone who had a shocker, finishing 18th. If Chris had been able to make every round, he would have been a contender for sure.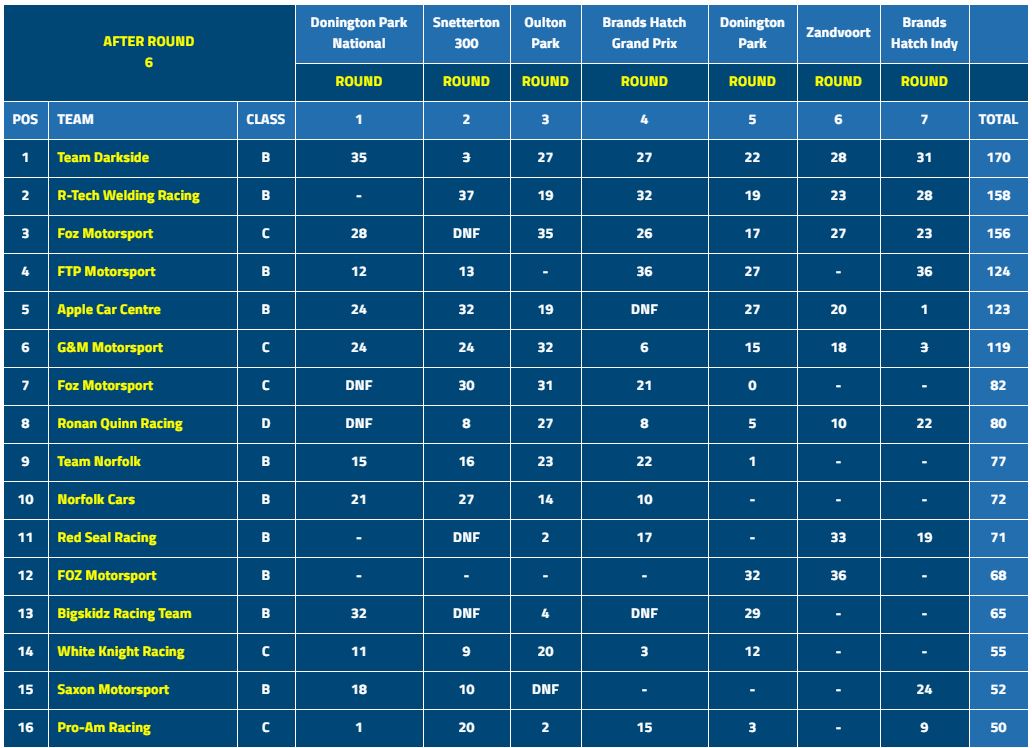 That was it, after 8 months of hard work from all the team, it finally paid off. I can't thank them as well as all my friends and family enough for the support they have given me this season, and last year in preparation. While there are only 7 race weekends, the amount of hours put into the car, testing and travelling to make it all happen is immense, and I am glad that I could do the business on track and bring home the silverware! We have been flying the flag for Diesels, being the only one in the Championship (Dylan races his Ibiza in the Trackday Trophy), and I think we have shown that not only can a TDI compete with the Petrol guys, it can beat them consistently and fairly. We did not have a single penalty all season as we kept it clean and tidy on track. Sadly this race is my last in the Ibiza, as we have built the Golf for next season. my friend Michael is having the car for his first season racing, so he will be doing the odd round here and there ready for a full season in 2021 hopefully! We will be supporting the car, hopefully alongside some other TDIs with Ryan and Stef at the wheels! I couldn't rest there though, with a short break for lunch, we were then straight in to the SuperCup and Trackday Trophy races!
Recent Posts
We only had 6 days to turn the car around from the MSVT SuperCup race at Silverstone, which you can …

After a dominating performance at Cadwell, which you can read about HERE, we were off to Silverstone …

Another 2 weeks flew by after our victory at Snetterton (we are trying to forget about the KA washin …