After an eventful first time racing in the Ibiza at Donington 15th April 2018, which you can read about here, we missed the 2nd round of the MSV Trackday Championship at Snetterton so we could improve the car as planned, and rejoined the action at Silverstone.
More info about the TDC can be found on their website - http://www.trackdaychampionship.com/about-tdc/
Our Ibiza is in Class B. The regulations for the series are reasonably relaxed, so that most cars that have already been used for track days will be eligible.
Since we had not run the car for a while at Silverstone, and we have made a lot of changes over the last few months, we decided to do some testing on Friday 22nd, which we will write a separate blog post about later.
Throughout the report, we will be describing the track by corner names. This image should help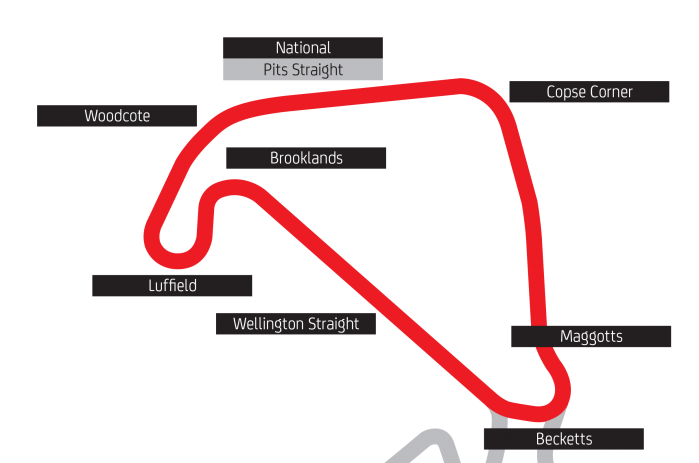 Qualifying - Saturday 23rd June 2018 - AM
So Qualifying went well. Ryan drove first then Scott took over. As per the championship rules, each driver must complete 3 full laps, which puts pressure on the first driver to keep it clean to ensure the second driver completes their 3 laps. We were in 2nd place for most of the session, only to be relegated two spots thanks to two great laps late in the session by the guys in Porsche 944 S2s. Scott responded by going quicker, but not quick enough! Our Final Time was 1:08.55 putting us in 4th. VBOX Data shows the session had an ideal lap time (all the best sectors stitched together) of 1:07.61, which would have put us on Pole Position! This means the car is capable, consistency is the key! The understeer from Testing Friday remained but a few tweaks over lunch would hopefully help. A nearside rear wheel bearing working loose was spotted in good time and sorted as well.
Results and a video of the fastest lap are below

Race - Saturday 23rd June 2018 - PM - 1st Stint - Scott
Over to Scott for his commentary on the race:
Due to our issues at Donington, and missing Snetterton, this weekend was the first race I have ever done. With plenty of track days under my belt, I was not being thrown completely in the deep end, but the etiquette required for a successful track day is completely different to that on a race day.
In the assembly area, we were positioned behind the Blue Porsche 944, and I noticed that their rear window was twisted slightly. Before I got out to tell them, someone went over and gave it a good whack, which seemed to do the trick. I mentioned to Rob who was with me, that knowing our luck, it will fly off on the straight and hit me. I ought to keep my mouth shut!
Starting 4th on grid, this gave me the inside line into Copse, all being well. We were the first of the Front Wheel Drive cars so I knew a good launch was crucial with three RWDs in front and another behind in 5th! I was warned that the starts are quick at Silverstone, so as soon as the 5 second board was up, I was poised, ready to launch. 3 seconds later the lights went out.
I got off to a decent start. The Blue Porsche (No 72) missed 2nd gear, so I managed to pass him. I then missed 3rd Gear, which meant the Blue and White E36 BMW of John Lyne (No 71) - Tylah Motorsports, starting 5th, got closer than I would have wanted, and the Orange Porsche 944 of Bialan / Campbell (No 36) was too close to catch to the first corner. I was also not aggressive enough into the first corner, backing off the throttle when I should have took it flat, losing some ground again but getting a better exit than the Orange Porsche. This meant I had the run on him into Maggots, but he had the inside line. We got VERY close, with the BMW hanging on to my tail and taking a drive down the outside into Becketts.

I kept it clean onto the Wellington Straight, still defending against the BMW who made a 2nd attempt, this time down the inside at Brooklands. Into Luffield, the Orange Porsche parked it almost so I stuck as close as possible through Woodcote and onto the Pit Straight.
1st ever racing lap completed. Still in 1 piece, now up into 3rd and clean underpants for now.
I was a bit out of shape into turn 1, but the Orange Porsche was out of shape mid corner, so I kept it tight and sailed past while he took a trip over the rumble strips. It was a little lairy on the braking zone at Maggots, and the BMW was all over my rear end, however I seemed to get a better exit onto the straight, and the exit at this corner is what makes a massive difference due to the long straight. You can see the Orange Rover Tomcat of D & J Roberts (No 3) having a battle with the BMW, I figured they would hold each other up, so I needed to concentrate on not taking too many chances and saving the Tyres and Brakes where possible. This is a 45 minute race after all, not a sprint!

Other than a few sketchy moments into Turn 1, the next few laps were uneventful, punching in mid 1:08s to mid 1:09s until hitting traffic on lap 10. On Lap 11, I went into Turn 1 a little hot and ended up on the outside of the track, but got away with it. I managed the traffic pretty well, maintaining lap times in the 1:09s, and hitting my fastest lap of 1:08.598 when I found a clear spot of track again. My main aim then was to preserve the tyres and brakes as much as possible, whilst keeping up to pace and not taking any chances. I figured it would be a nice cruise to a podium finish for Ryan, with the car still in a decent state to race as opposed to chewing gum tyres and wooden brakes!
After completing 22 laps I decided to pit for the Mandatory 2 minute stop with a driver change, to give Ryan a chance to maintain our 2nd position. Since the Black BMW 328i of Gary Burstow (No 106) was well in the lead and lapping in the low to mid 1:08s, our goal now needed to be getting the car home in its current place.
Race - Saturday 23rd June 2018 - PM - 2nd Stint - Ryan

Over to Ryan:
The Pit Stop ended up being 2:09:271, so over 9 seconds more than the minimum. This ate up a lot of the lead Scott had built, but we were airing on the side of caution, after seeing the number of drivers serving penalties of 2 minutes or more at Donington, some for being less than 0.1s too quick in the pits! I came back out in 2nd, with a 3 second gap between me and 3rd place. Not quite a comfortable lead now!
Straight out of the pits I managed to knock out a decent lap with the next full lap being a 1:09.21, which would be enough to maintain the position, all being well. On the second full lap, unbeknown to me at the time while chasing a Mini that was in our class, the blue Porsche that Scott overtook at the start decided to part ways with its rear window in the middle of the Wellington Straight. Someone had run it over, shattering into pieces. Unlucky for us, I ran over some of the bits, and you can see some debris fly in front of the windscreen while I was checking to see I had passed a back marker safely. At this point there were no indications of a problem, so I went past the pits whist lapping some of the Class C and D cars.
Into Copse, the car seemed to understeer a little, then into Becketts I completely washed out and all the cars I had just lapped came flying past, so I knew I had a puncture right away. I managed 91mph down the straight (normally ~120mph) with the tyre completely flat and into Brooklands knowing the left hand bend would be doable at a decent speed, only 6mph slower on 3 wheels was a decent result. The car was almost undrivable in the next right hand bend, understeering off the racing line massively. It didn't help that even with smoke pouring off the tyre and having the right indicator on, some cars were still trying to overtake on my right, blocking the pit entry!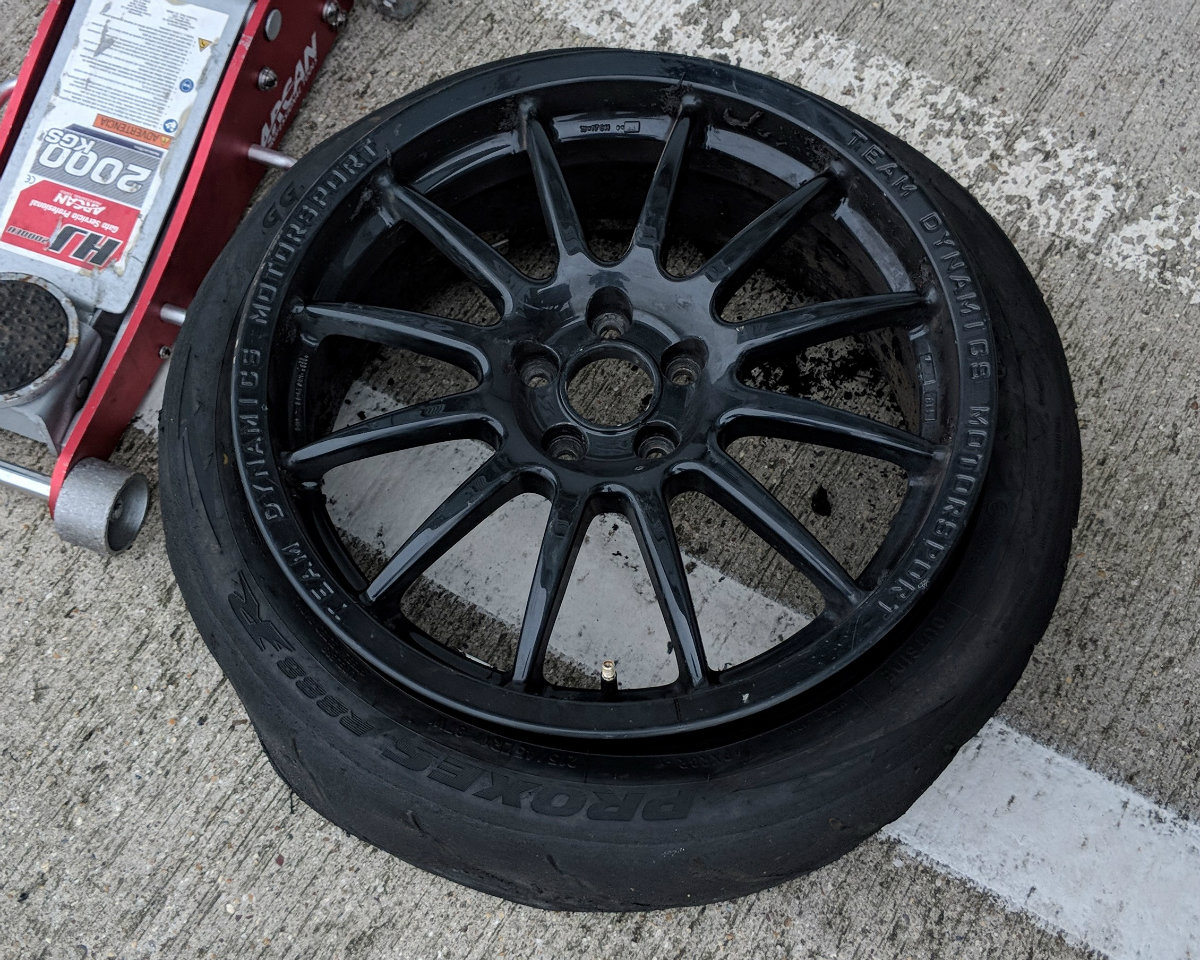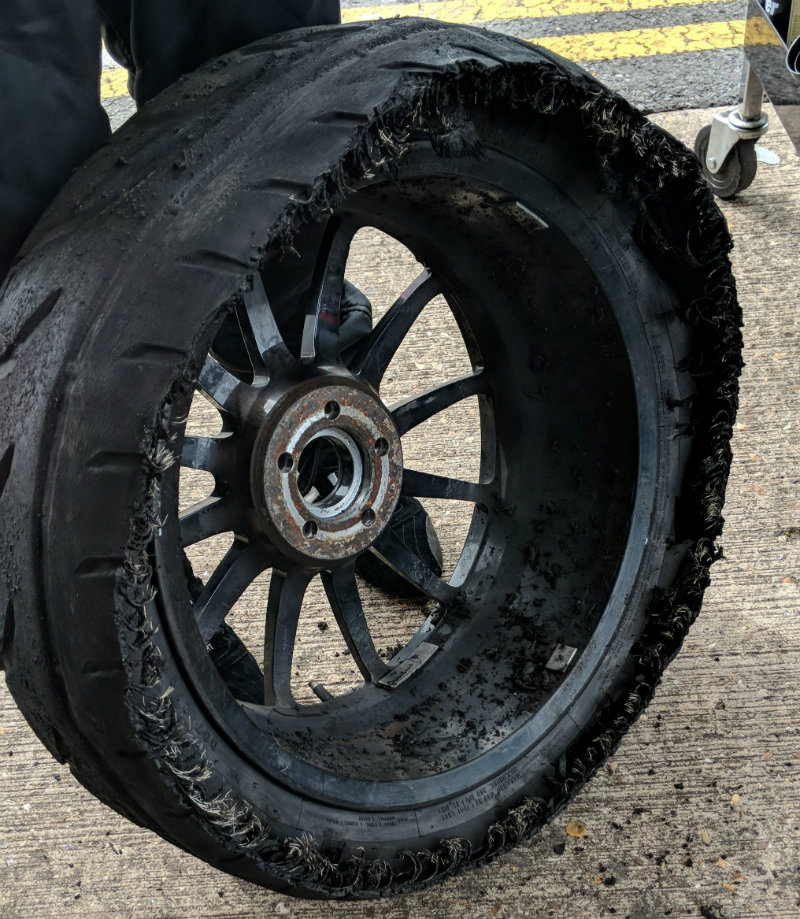 The lap with a puncture was a 1:23.6, so 14 seconds slower than normal pace, leading into the pits. The guys were a bit shocked to see me come in so soon and lucky for us Rob had said having a spare wheel in the pits would not be a bad idea. It would have been a 5 minute sprint back to the van if not! Hats off to Paul, Lee and Rob in the pits. They reacted quickly and the wheel was changed pretty fast (not F1 2.9s fast, but as fast as humanly possible) despite the brakes being on fire, the wheel almost glowing it was that hot, and bits of melted rubber and plastic all over! Despite the quick change, I still spent 3:50 in the pits and came back out in 19th place, 2 laps down from the leaders and with most of the cars we had lapped now back ahead. Plenty of work to do!
This outlap was a little more eventful that the previous, a cold left tyre with only 16psi causing a lot of roll and understeer until reaching operating temperature. Plus the best overtaking spot on the track now covered in broken glass severely hampered progress, meaning most of my laps were 1 to 1.5 seconds down on our ideal. Despite my best efforts, I only finished 18th overall and second to last in our class, still 2 laps down from most of the leading cars.
The best race lap time we did was 1:08.598 against a 1:07.771 (1st), 1:08.612 (2nd) and 1:09.035 (3rd), so we were well on the pace for a podium finish. But this is racing, it does not always go to plan, and you don't have to do anything wrong for your race to be compromised! And least this time, we didn't spill any diesel on the track, especially since it has just been freshly resurfaced for the British Grand Prix in a weeks time!
This weekend, we also took part in the MSV Teams Trophy Extra Race on the Sunday. We will write another blog post about that shortly! As ever, more dramas!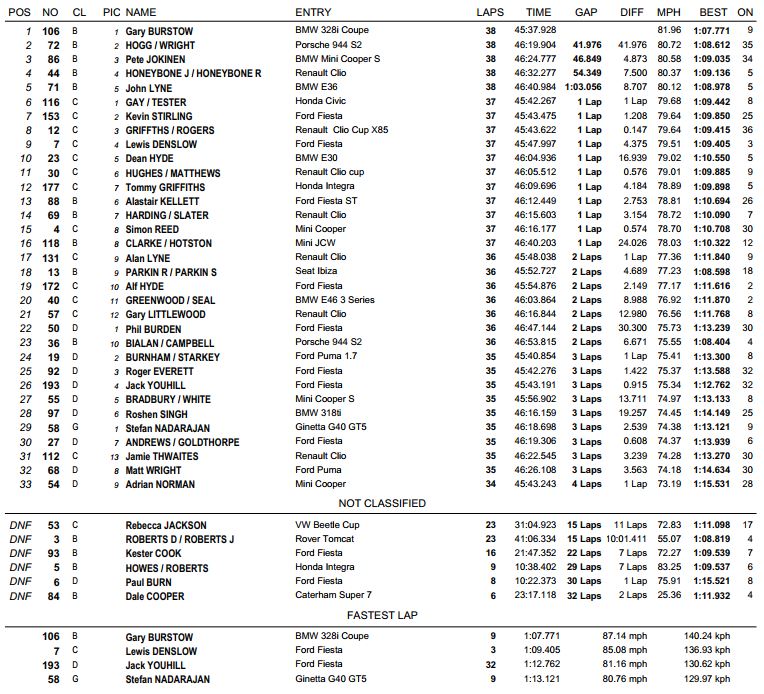 You can download all the Event Results from this weekend here - http://www.tsl-timing.com/file/?f=MSVR/2018/182551tdc.pdf
Our next race would likely be at the Brands GP Circuit in August, as we have never done that layout before. We would love to also make the round at Zandvoort near Amsterdam, Holland, but we won't be able to make it.
http://www.trackdaychampionship.com/calendars-results/2018-calendar/
Recent Posts
Back on the track... After regaining the full potential of the A5 (Part 18 Blog) we wanted to get i …

After a great opening round of the MSV Trackday Championship, which we discussed in our blog, and th …

Back to work... After our recent road trip to Circuit de Spa-Francorchamps and the Nürburgring …