We have posted many Blogs in the past, showing videos and images from our Racelogic VBOX HD2, but figured it would be a good idea to explain how we use the system in pursuit of faster lap times.

Other than changing the driver (which can make a huge difference!), another important factor is the Tyre choice.
We currently race in the MSV Trackday Championship and MSV Trackday Trophy. In the TDC, Tyres must be Toyo R888R (GG Compound) or R888R, whereas in the TDT, they can be from the Motorsport UK Permitted Tyres list 1a, 1b or 1c (Slick tyres and motorsport wets are not permitted). So in the TDC everyone is on basically the same tyre, rain or shine. This evens the playing field in some ways, but different vehicles setups can have a massive impact on Tyres. For example, our Ibiza is very hard on front tyres due to being Front Wheel Drive, nose heavy and pushing almost 400Ft/Lbs of torque.
As there is only so many hours in the day, we decided to restrict testing to the following:
Dunlop Direzza DZ03G
Yokohama ADVAN A052
Toyo R888R GG
We went with the Dunlops as a lot of teams were using them in the TDT last year, the Toyos as they are the TDC control tyre, and the Yokohama were recommended to us as a relatively new design.
With any sort of testing, the ideal scenario is to have as few variables as possible. We live in the real world and this is not always possible. Our inital plan was to test at Oulton Park, but both the weather and a wheel bearing failure put paid to that! When it is raining then drying as it was at Oulton, track conditions are far too varied from lap to lap to accurately measure improvements. We found we could shave multiple seconds off our times just by changing racing lines to take advantage of the difference in grip available. To test tyres accurately, it needs to be perfectly dry, or wet and staying wet!
So we decided to postpone the testing until we were at Brands Hatch for the MSV Racing Media Day. This is an event for a select number of vehicles from the MSV Trackday Championship and MSV Trackday Trophy (3 from each series) along with vehicles from all the other MSV Series to get on track so the team at MSV can get some photos and video footage for marketing use throughout the year. Once they were happy, we were able to use the track under Trackday Rules in 15 minute sessions. We were grouped with the Ford KAs that are in the new EnduroKA Endurance Series. This meant we were in a group with a BIG speed differential. The KAs are stock 1.3 Engines on skinny tyres. Not fast but they look a lot of fun!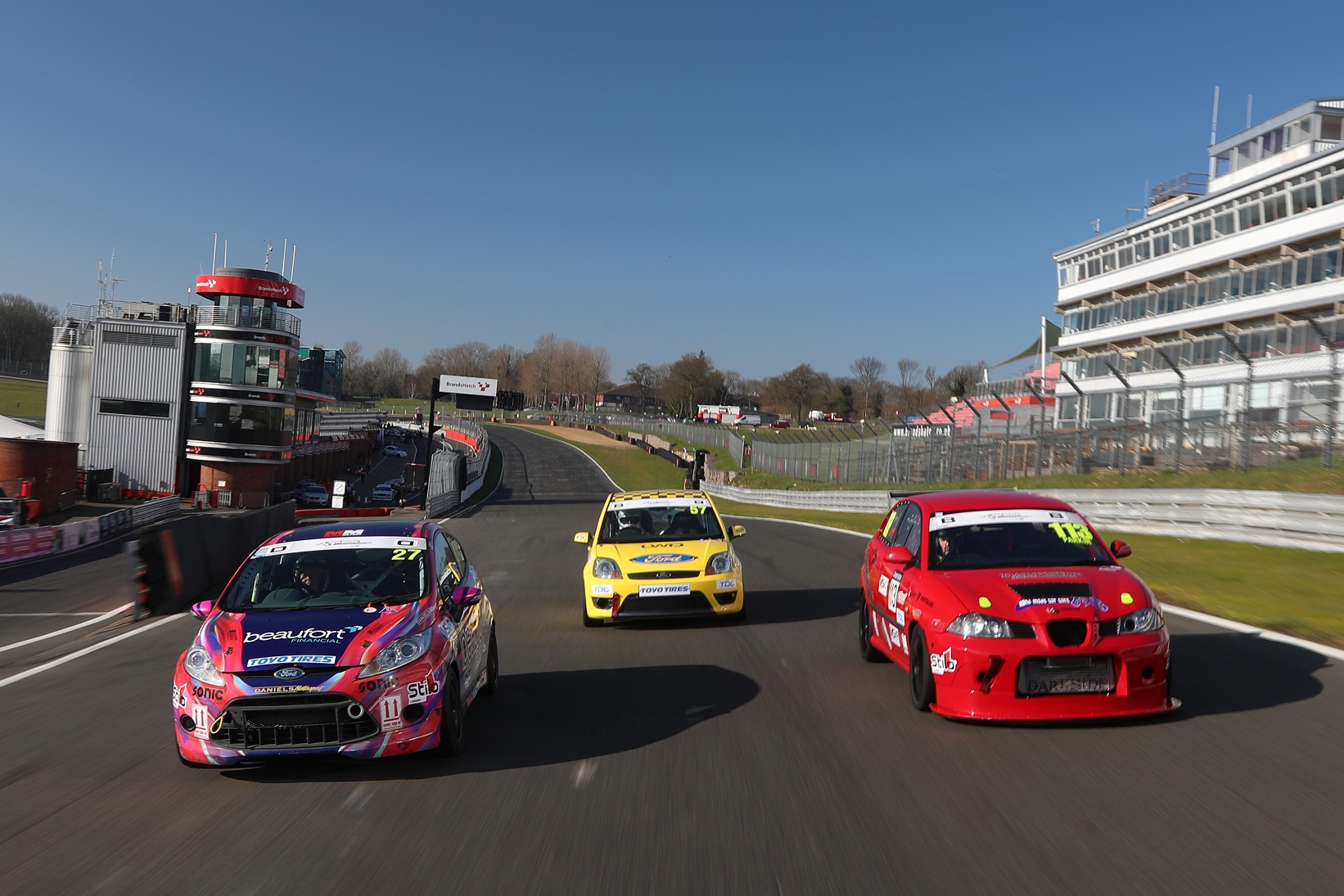 With the Racelogic VBOX HD2 we can quickly see improvements on the OLED Display, which shows the Predicted lap time vs your best lap (or a reference lap if you set a fixed one). This means you can immediately notice an improvement in real time across a lap. If you are lapping quicker and the only thing you have changed are the tyres, then the tyres are better!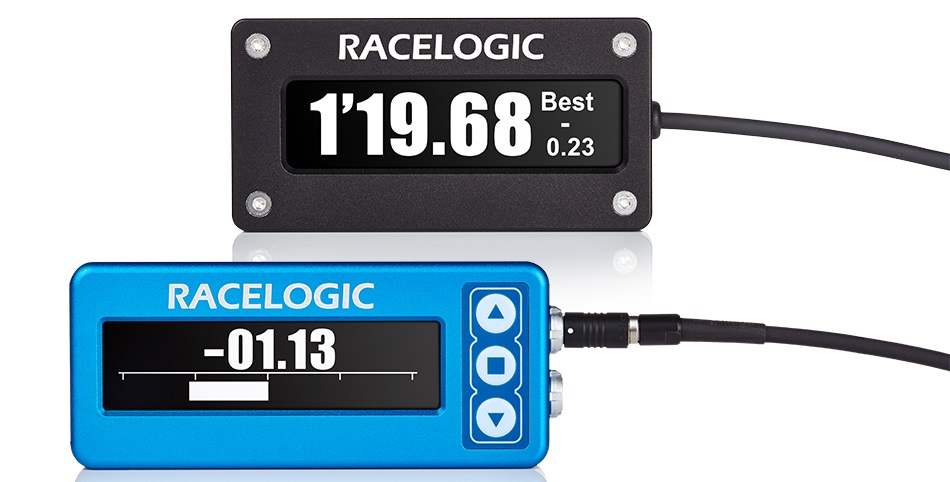 However, we can then dig deeper into the VBOX data once we are back in the pits to find out where we are making the gains. Within the data we can find lateral (side to side) or longitudinal (forward and backwards) G Force. So Lateral will tell us if we have more grip during cornering, Positive Longitudinal shows Acceleration and Negative Longitudinal is grip under braking.
The results of the test, along with a video of the best lap time are below:
Dunlop Direzza DZ03G
215/45R17 Front & Rear
Best Lap Time - 55.90
Ideal Lap Time - 55.63
Peak Longitudinal G - -1.172 to +0.433
Peak Lateral G - -1.337 to +1.345
Supplier - hptyres.com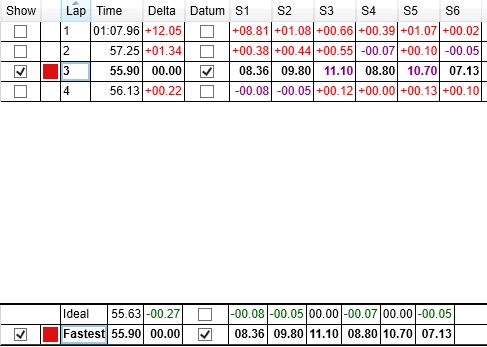 Yokohama ADVAN A052
Front 245/40R17 & Rear 215/45R17
Best Lap Time - 55.12
Ideal Lap Time - 54.51
Peak Longitudinal G - -1.474 to +0.431
Peak Lateral G - -1.528 to +1.354
Supplier - adamsandpage.co.uk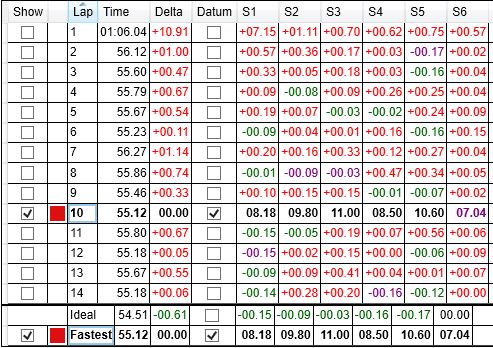 Toyo R888R GG
Front 235/40R17 & Rear 215/45R17
Best Lap Time - 56.26
Ideal Lap Time - 55.53
Peak Longitudinal G - -1.170 to +0.492
Peak Lateral G - -1.322 to +1.187
Supplier - adamsandpage.co.uk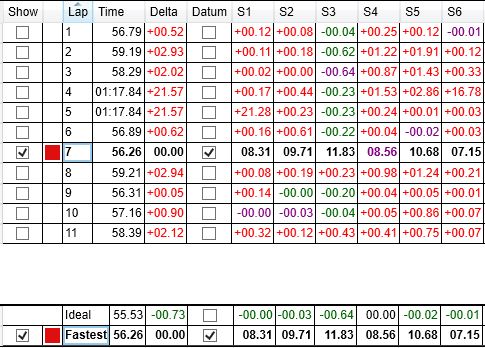 It is pretty clear from the above that the A052 is the much faster and more consistent tyre, just about every lap was in the 55s and the ones that weren't were due to traffic. The first flying lap they were faster than the R888Rs.
The testing for the Direzzas was hampered a little by a red flag after only 3 flying laps but the times were still a little behind. The Front tyres were 215/45R17 as opposed to the 245/40R17 or 235/45R17 of the A052 and R888R. This can have a reasonable effect on times, but was unavoidable due to availability at the time.
We also need to bare in mind that these tests were done in 15 minute stints, whereas our races are 45 minutes and qualifying is 30 minutes. There is no point going for a tyre that is crazy fast for a handful of laps, and then overheats.
Recent Posts
The first round of the 2021 Season of the MSV Trackday Championship and MSV Trackday Trophy was at o …

The 3.0 Diesel N57 Engine found in most of the F Series (and some of the E Series) BMWs is highly tu …

We're still not sure why VW have never produced a sporty (GTI / GTD) version of the Caddy van, but f …