We're looking for one of our fans to design a slick race livery our new Golf MK5.5 ex VW Cup Car that will be replacing our Seat Ibiza in next years MSV Trackday Trophy and Championship season!
The chosen winner will receive a Darkside Developments Merchandise Pack as well as the opportunity of joining us on one of many track days for Passenger Rides in the car. The winning designer may also have their own company logo or 'Designed by YOUR NAME' on the vehicle design.



The design must take into account the following:
- The colour scheme must made up of Black, White, Greys and Reds.
- The Darkside Developments logo to be the 'feature' sponsor and visible from each side of the car, as well as from the front and rear.
- Race numbers and areas labelled sponsors on the below design must remain.
- Please leave plenty of space for the below MSV requirement plus additional sponsor logos:
MSVT Sticker on both sides of the vehicle
MSVT Trackday Championship sticker on both sides of the vehicle
MSVT Trackday Trophy sticker on both sides of the vehicle
Alex Reade Motorsport visor strip on the front windscreen of the vehicle
Class sticker on the rear of the vehicle and two on the front (one reversed)
MSVR Sticker on both sides of the vehicle
Dodo Juice, Motorsport Days and Moores Motors sticker on both sides of the vehicle
Design Pack:
We have put together a handy design pack consisting of logos, photos of the car and blueprints in both .PDF and .AI formats for those with the a design background and appropriate software (i.e. Photoshop, Illustrator etc).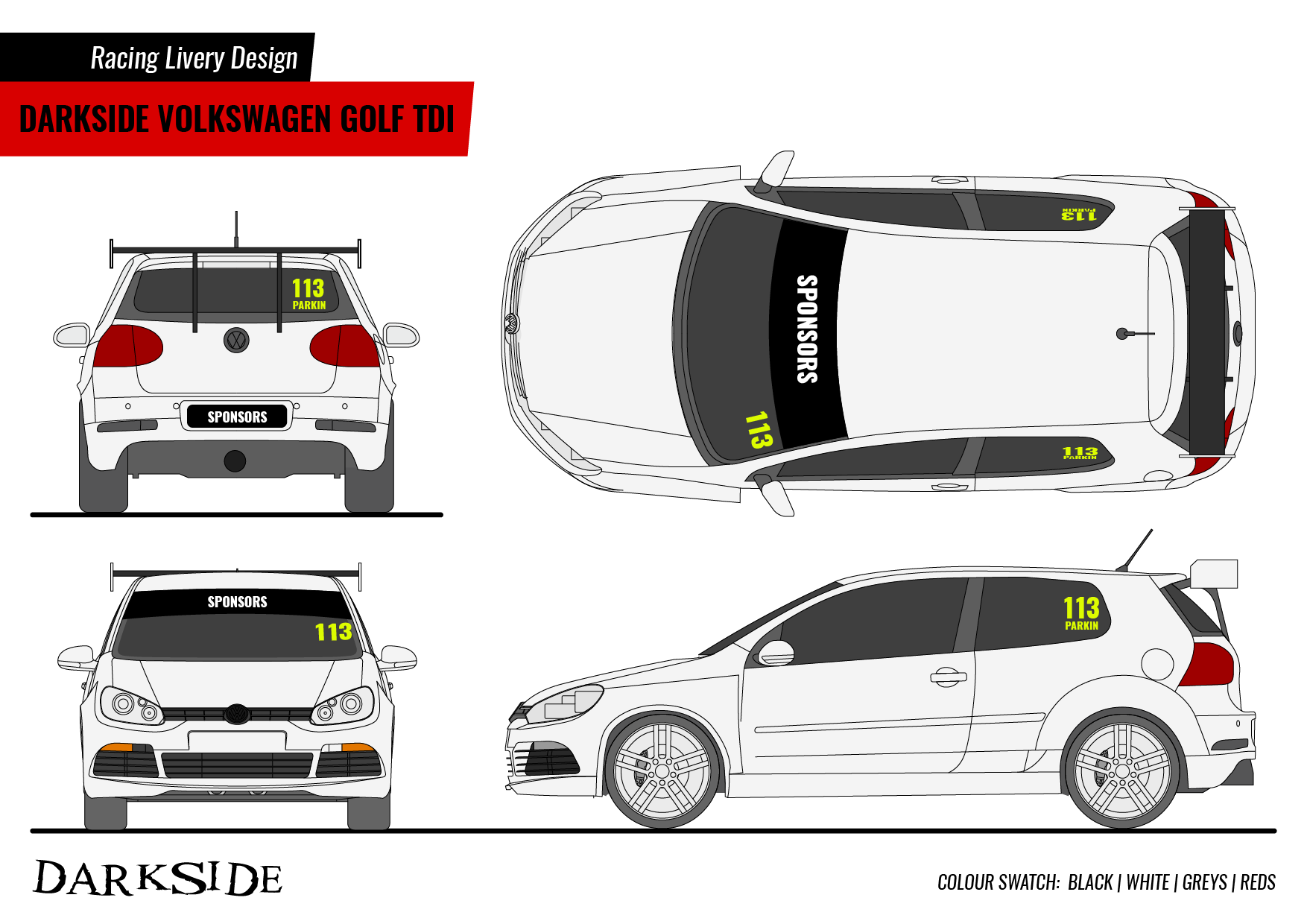 For those that are down with the kids, we are happy to expect designs from the likes of Forza or other any other platform you may choose.
Entries can be sent via email to the usual address or Facebook:

https://www.facebook.com/darksidedevelopments
We will short list all the entries and pick a winner! Here are a few designs we like the idea of:
Recent Posts
The idea of a 2.0 BiTDI Transporter or Amarok sounds great, and with quoted figures from the factory …

After the long wait for the start of the season due to the COVID-19 situation, the first round of th …

If you're subscribed to our YouTube channel, you may have already seen the series of videos we …