Our first ever race since acquiring a National B Licence took place on the 15th of April in our Red (and a bit black) TDi Ibiza
We decided to enter the MSV TDC as the rules are fairly relaxed and a diesel car can still give the petrol cars a run for their money. It also works well for 2 driver teams, as it is a 45 minute race with a mandatory 2 minute pit stop, which allows for a driver change.
The class structure is based upon Power to Weight ratio which is a very good way of keeping different cars on a level playing field. With only a few minor changes to the cars specification from its usual 'Track-Day' guise, we were ready to race!
More info about the TDC can be found on their website - http://www.trackdaychampionship.com/about-tdc/
Classes:
Class S: 201 – 225 bhp/ton
Class A: 176 – 200 bhp/ton
Class B: 151 – 175 bhp/ton
Class C: 126 – 150 bhp/ton
Class D: Up to 125 bhp/ton
We are in Class B. The regulations for the series are reasonably relaxed, so that most cars that have already been used for track days will be eligible:
Meet the basic MSA standards for safety
Minimum weight of 600kg (post race and with driver)
Tyres must Toyo R888 (GG Compound) or R888R
Forced Induction cars (Inc Diesels) under 2000cc - Fitted with 30kg of Ballast
Cars with a Sequential Gearbox - Fitted with 30kg of Ballast
4WD vehicles are not permitted
The car needed to be de-tuned slightly to fit into Class B and the power testing is carried out on a hub dyno at the track, Our own dyno is border line pessimistic so we had to be careful how much power we had, 205 BHP at the wheels was the target with 1175kg including driver minimum weight. On our dyno we tuned down to 178whp and on the race dyno we pulled 200whp exactly. Should anyone be accused of cheating its possible to have your car impounded and tested, failure to match the previous result would mean disqualification.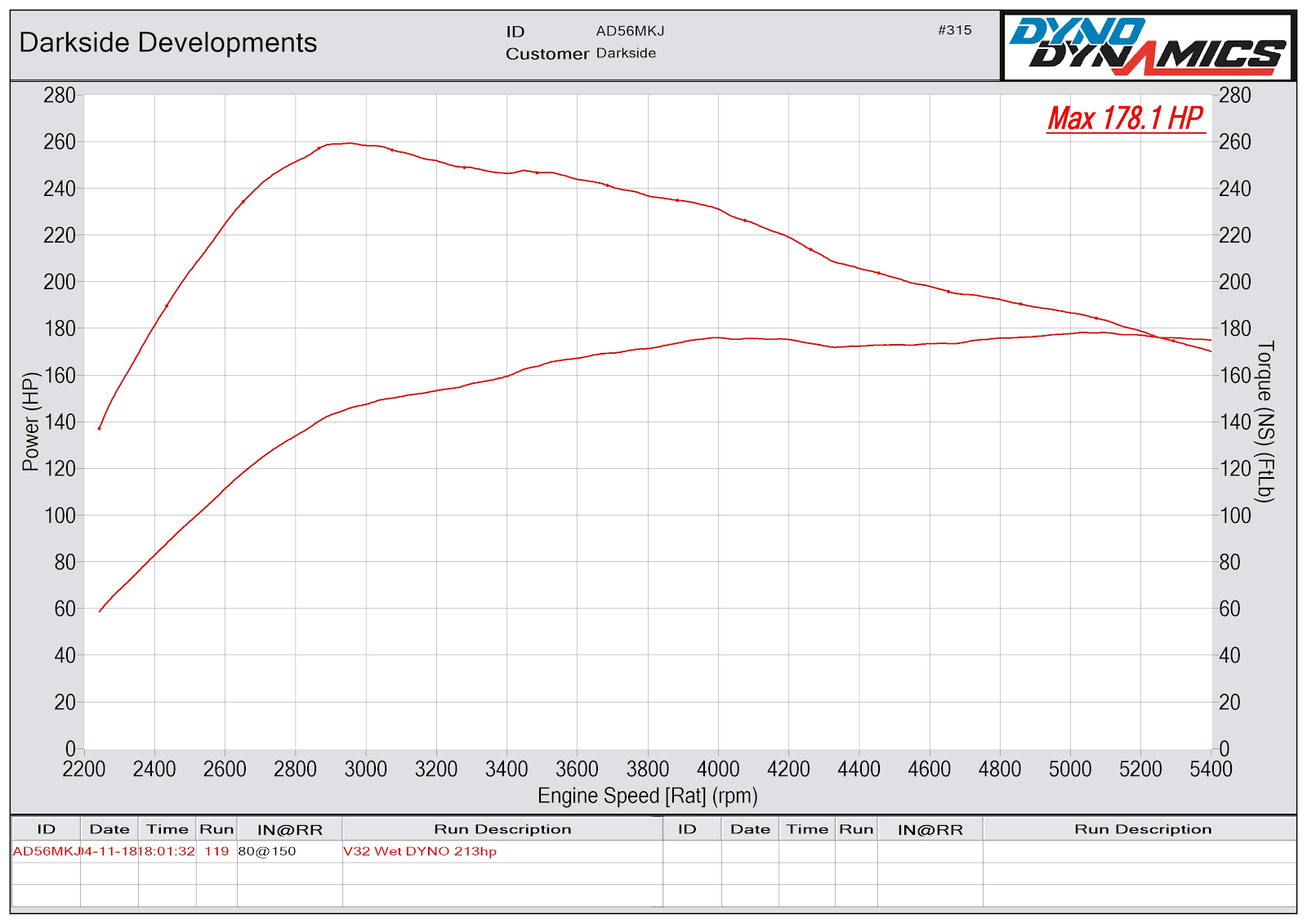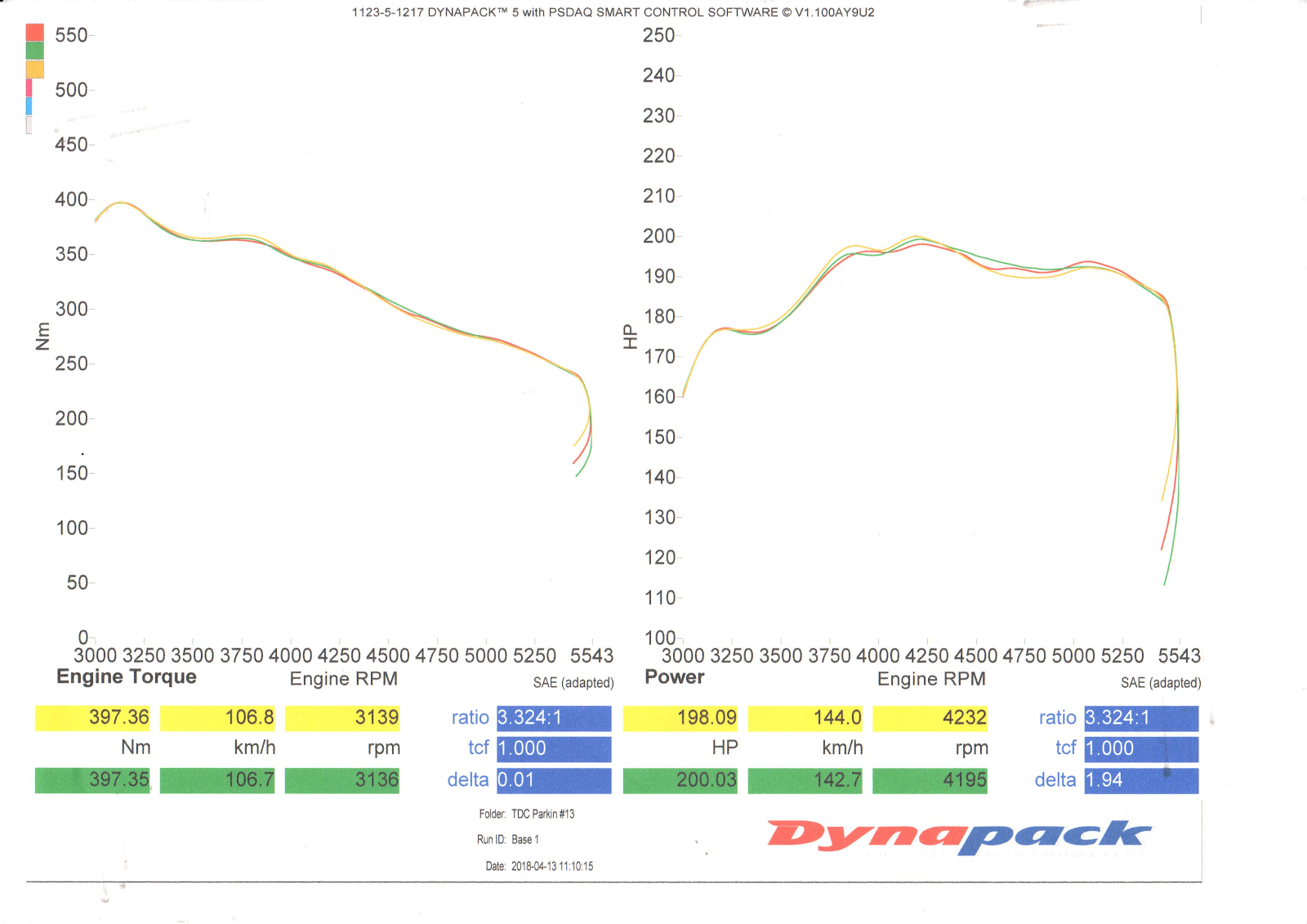 As you can see the shape of the curves are totally different and our dyno reads roughly 10% less overall power and only a few percent less torque.
Going into the qualifying we were not happy with the brake pedal feel and travel, so throughout the race we needed to brake very early, anyway, less of the excuses…
In Qualifying, Scott was out for the first stint, knowing we had to each do at least 3 laps, otherwise we might not even make the race or start from the back, it was a daunting prospect to go straight out hell for leather and ruin the race for each other. We wrongly set out to qualifying with a full fuel load and a little too much care meaning we qualified 17th out of 37 cars.
Scott's best time was a 1:23.968 and Ryan only managed a 1:24.017 in the second half of qualifying.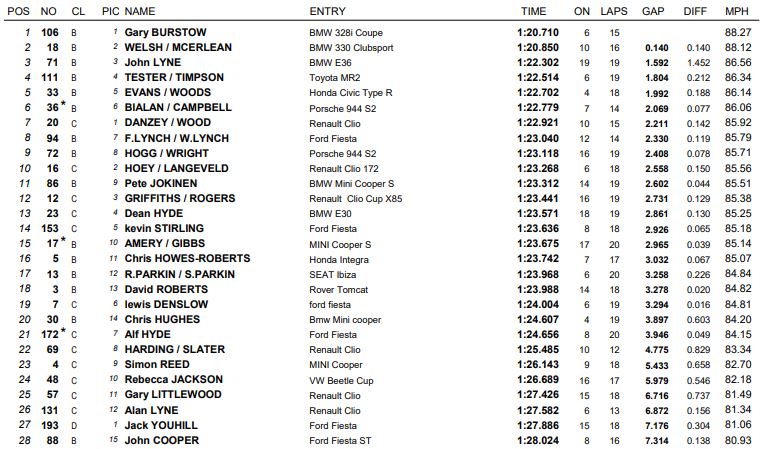 Onto the race…due to a camera related issue, all of our footage was corrupted so unfortunately we don't have anything from inside our car to show
This was the grid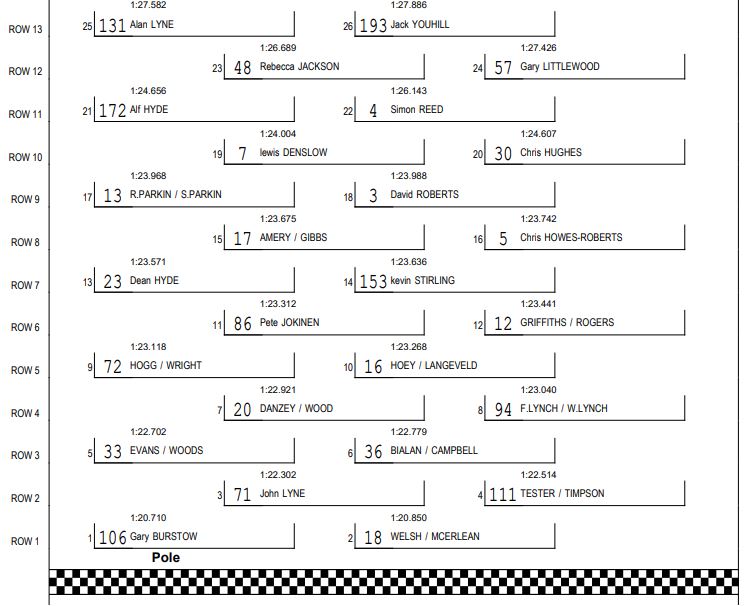 Ryan will take over...
Here is a video taken from a well driven Fiesta in Class C (one below our class B), piloted by Lewis Denslow, 2 places behind us in 19th. His best lap was 1:23.651, and my best race lap was 1:23.408, with much improvements to make for next time, so not much in it!
My launch wasn't as fast as I hoped, everyone in front seemed to delay for a second so I had nowhere to go, some people chose the grass!
At 3:09 the Fiesta and Minis late brake and contact, which put me in a bad position on the chicane, meaning I got pushed off the track.
The grass cutting bent the exhaust into the fuel tank, and unbeknown to me, had melted a nice hole in there, dripping diesel onto the hot exhaust, which you can see as smoke!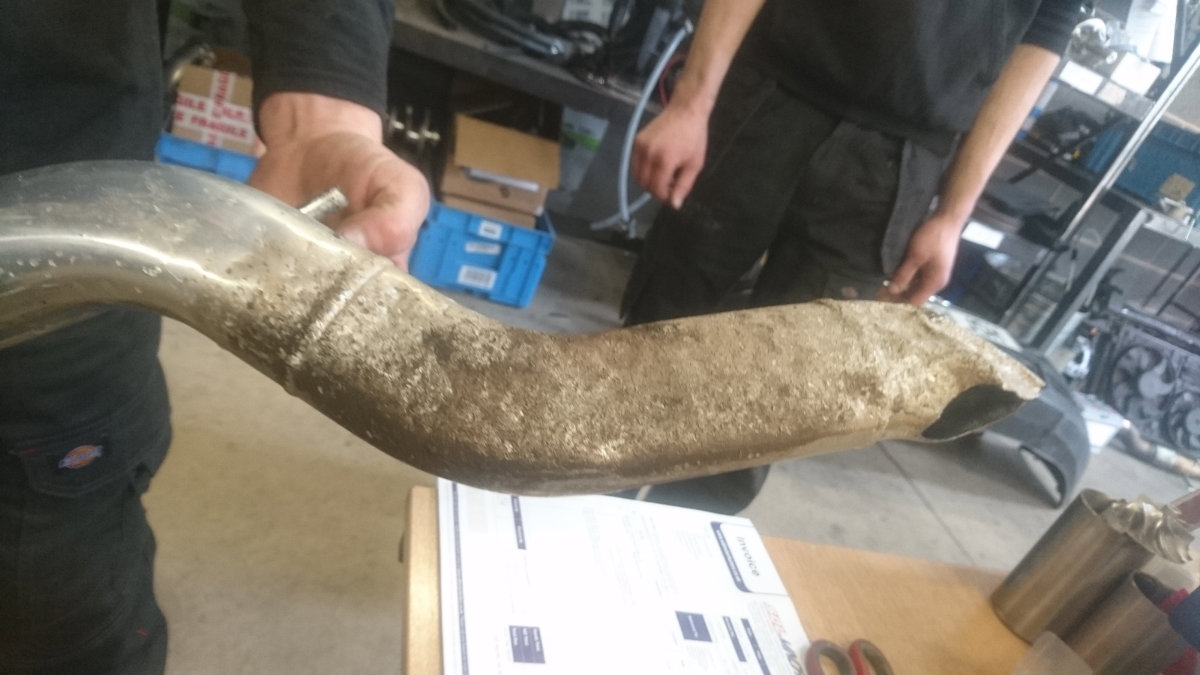 I had to sit behind the Fiesta down the straight until 4:36 when I get back round him after a good exit out of Coppice.
After a brief battle with the Orange Tomcat and Red Clio (see below) in our class the brakes started to get worse and the EGT's were climbing due to the squashed exhaust limiting boost.
7:38 the Fiesta catches back up at the chicane and at 16:15 catches up at Redgate. You can see the smoke coming from the rear of the Ibiza even more now!
At 17:40 I had to come in for an early pit stop, hoping to pull off the exhaust and let Scott have his drive, but the car had no chance of going back out with such a large hole in the tank. Sorry if anyone slipped on the diesel!
Another team, in a Red Clio, also uploaded a video, 3 minutes in you see me come into view due to the terrible brakes:
At 7:40 I finally overtook the orange Tomcat.
Over the next 8 minutes or so I get away but then the distance is clawed back, mainly under braking.
At 15:50 the Clio gives me a cheeky nudge, likely due to the diesel being spilled and my early braking.
For the next blog, we will be at Silverstone National with our newly purchased Racelogic VBOX HD2. Hopefully this will massively improve the quality of the videos as well as give us the information we need to improve our lap times. We are now a dealer for Racelogic so anything you need please ask!
Overall my first experience in a wheel to wheel race was a mixed bag and nothing compared to a track day, the adrenaline rush is hard to put into words and the preparations you need to make before entering a race weekend cannot be taken lightly.
The car proved that with some slight improvements, we can be competitive, I would hope for top 10 out of 37 cars without much trouble. Next time out Scott is having the first drive :)
Roll on Silverstone!
Recent Posts
The first round of the 2021 Season of the MSV Trackday Championship and MSV Trackday Trophy was at o …

The 3.0 Diesel N57 Engine found in most of the F Series (and some of the E Series) BMWs is highly tu …

We're still not sure why VW have never produced a sporty (GTI / GTD) version of the Caddy van, but f …