We have posted many Blogs in the past, showing videos and images from our Racelogic VBOX HD2, but figured it would be a good idea to explain how we use the system in pursuit of faster lap times.
Check out our blog on Using a Racelogic VBOX HD2 for Tyre Testing to see how we use the VBOX when comparing different tyres.
This time, we are concentrating on Driving Technique. A saying someone told me, which I think is quite true:
'When looking to shave time off your laps, you can find hundredths of a second in tuning the engine, tenths in the car setup, but seconds in the driver'
The problem is, it can be quite difficult to quantify where a driver is going on without at least video footage, and then in an ideal world you would have data to back this up. This is where the Racelogic VBOX HD2 is great, as you can play back HD Quality video, with both data overlays for quick references, or use Circuit Tools to get even more data. In our Ibiza Race Car we have added sensors to measure Brake Pressure and Steering Angle, as well as utilising the CAN network on the car to get Throttle Position, RPM, Coolant Temperature etc.
We currently race in the MSV Trackday Championship and MSV Trackday Trophy and the first race is on 7th April, with both 30 minute qualifying and 45 minute races on the same day. The race is at Donington on the National Circuit Layout, which is the closest track to us, and the one we have the most experience driving, but that does not mean we know everything about getting around it quickly! We needed a Pro!
We had been in touch with Nigel Greensall for a while, he has driven everything from VW Funcups to Formula 1 cars, so he knows how to pedal! We were in our Ibiza Race Car to get the final setup nailed for the opening round of the season and then park it up ready! We were also required to have a Dyno Test as per MSV Regulations for the race series, so it all tied together nicely.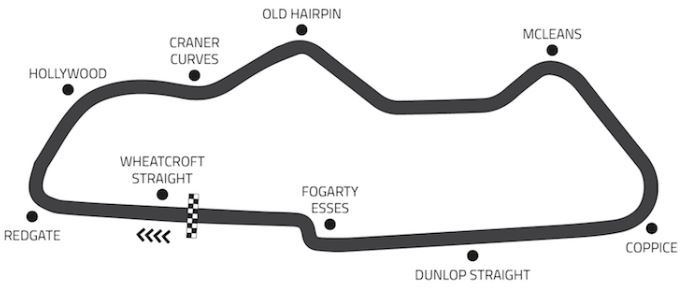 It was a little wet and windy in the morning after our Dyno pulls, so it was difficult to compare sessions with conditions changing all the time. However late morning / early afternoon was still VERY windy but more or less dry so we could do some back to back sessions in the car and then dig through the data!
Racelogic have some useful information on using their Circuit Tools software, as well as lots of How-To Guides. The video below quickly shows how we can compare two very similar lap times in an identical car, to uncover the hidden differences in driving techniques.
It is crazy to think that the laps are just 0.06s apart, but the differences in braking points, acceleration points and track positioning are so much different. This is what makes using the VBOX so great, especially in multiple driver teams. Even if drivers are punching in similar lap times to each other, there may be more gains to be had by combining different driving styles in each corner to get the best overall lap time. Both laps are also uploaded to YouTube so you can check them out individually.
Scott
Best Lap Time - 1:21.53
Ideal Lap Time - 1:20.95
Nigel Greensall
Best Lap Time - 1:21.47
Ideal Lap Time - 1:21.14
Recent Posts
The first round of the 2021 Season of the MSV Trackday Championship and MSV Trackday Trophy was at o …

The 3.0 Diesel N57 Engine found in most of the F Series (and some of the E Series) BMWs is highly tu …

We're still not sure why VW have never produced a sporty (GTI / GTD) version of the Caddy van, but f …