The first round of the MSV Trackday Championship was a proper stinker at Snetterton, with 2 DNFs in the Golf due to various issues (which you can read about here). Not to let this dampen our spirits, we came back to base and worked like crazy to iron out as many issues as possible before round 2 at Oulton Park in Cheshire, which comprised of a 45 minute Race in the Golf, then a 5 hour race in the EnduroKA. We did plan to also enter the Trackday Trophy in the Golf, but once bitten twice shy, we decided to concentrate on the TDC as its a Championship, instead of the TDT's standalone race weekends.
We tested on the Friday afternoon, and had a few niggles with the car. It felt down on power and the engine was not revving as freely as normal. We had managed sub 1:57 lap times in this spec a few weeks before, and I was driving the wheels off the car to get to 2:00. As well as the crazy heatwave putting strain on the car, we had a sneaky suspicion that the lifters were losing a bit of oil pressure through the fast flowing corners, as the engine we had fitted did not have a baffled sump. Luckily we had one on the shelf at the workshop, so Mathisse and Tom came through after work as planned and delivered it to us. Paul worked until 9pm to get the car prepped ready for Saturday. Fingers crossed all our demons were gone for now!
Below is the layout of Oulton Park: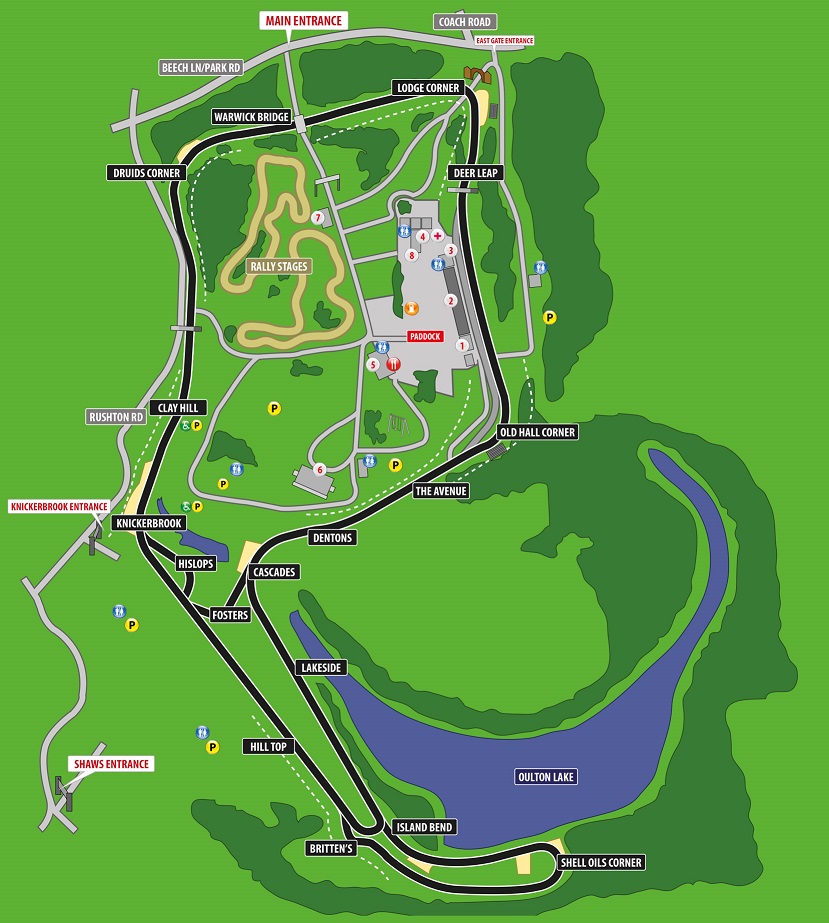 TDC Qualifying
After a scorching hot test day, we woke to clouds, a bit of rain and much cooler temperatures. The regulation Toyo R888R Tyres are very sensitive to track temperature as well, so hopefully we would have some more grip and improve those lap times, as I knew to get pole we would need to be sub 2:00 at least.
It was going to be a busy day, even without doing the TDT race, so it was a good job we decided to sit that one out!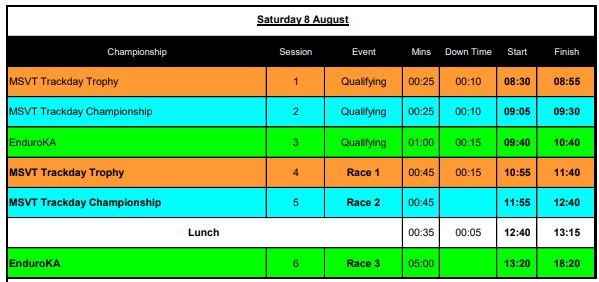 As soon as I took the car out in Qualifying, it felt a lot better. The smoke was much less, it revved cleaner and it felt like it had full power back. Past experience at Oulton told me that there would be some safety cars during the qualifying session, so I pushed hard straight away. My first flying lap was 1:58.502, 0.9s quicker than Simon Harrison in the Clio just up the road in front of me. I knew it was a sloppy lap, so pushed harder again and managed a 1:57.343 before coming into the pits to check the tyre pressures and temps.
As predicted, a few minutes later there was a Red Flag and everyone piled into the pits. We decided to go back out and do another couple of laps to make sure the car was OK, but as I went out, a BMW and Mini came together, sending the Mini into the barrier and onto it's roof. A scary sight! The sessions was over, and I was on Pole for the first time in the Golf!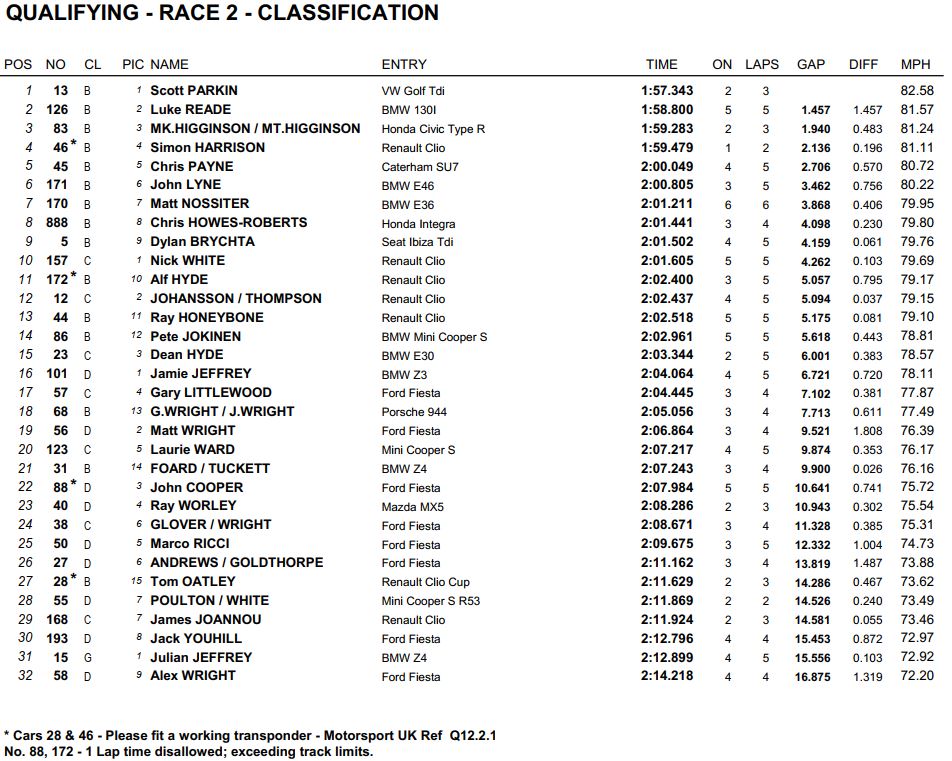 As you can see from below, my first flying lap was quick enough for Pole, and I ended up 1.457s clear of the rest of the field. I am sure with a few more laps they would have closed the gap, but I knew the Golf would be strong around this circuit, as it takes the bumps so well.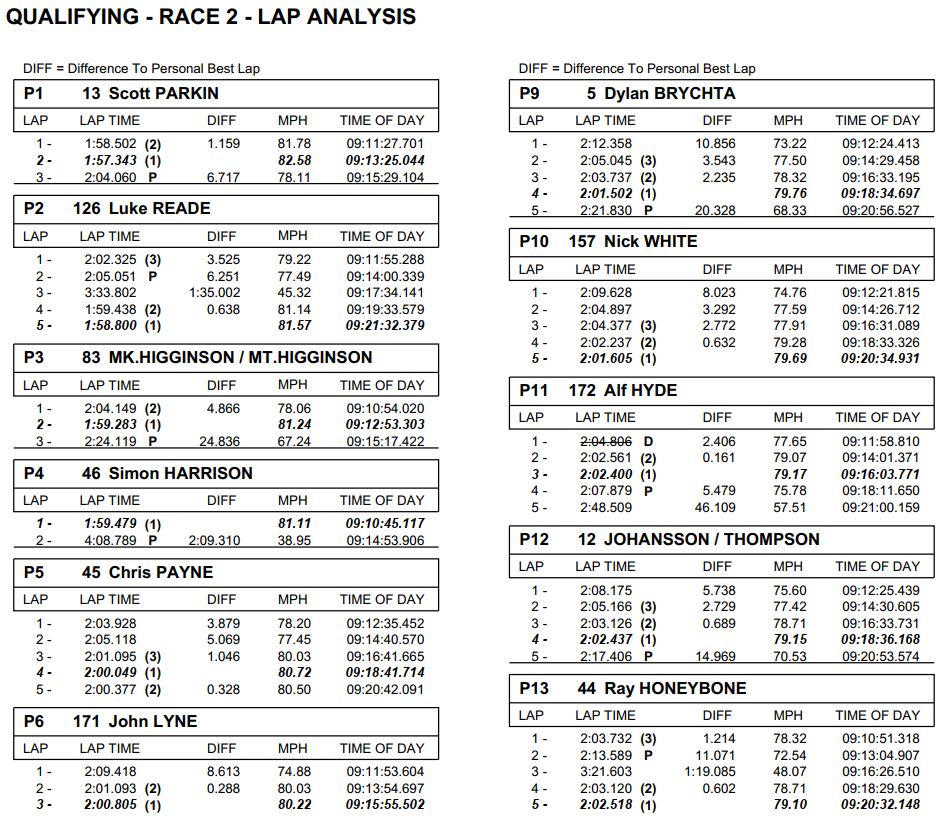 The 1:57.343 lap is below. The VBOX ideal time was only 0.02s faster, with so few laps to compare its hard to see where I could have improved in the data, but looking back at the lap, it was not my finest work!
TDC Race
With a qualifying session in the KAs between Quali and the Race (more on that below) we had a bit of time to check over the car and make a few adjustments.
With a Luke in a RWD BMW to my left in 2nd place, and Chris in the Caterham behind in 5th, I knew I needed to get a good launch, and this would be the first time I had launched the Golf in DSG spec.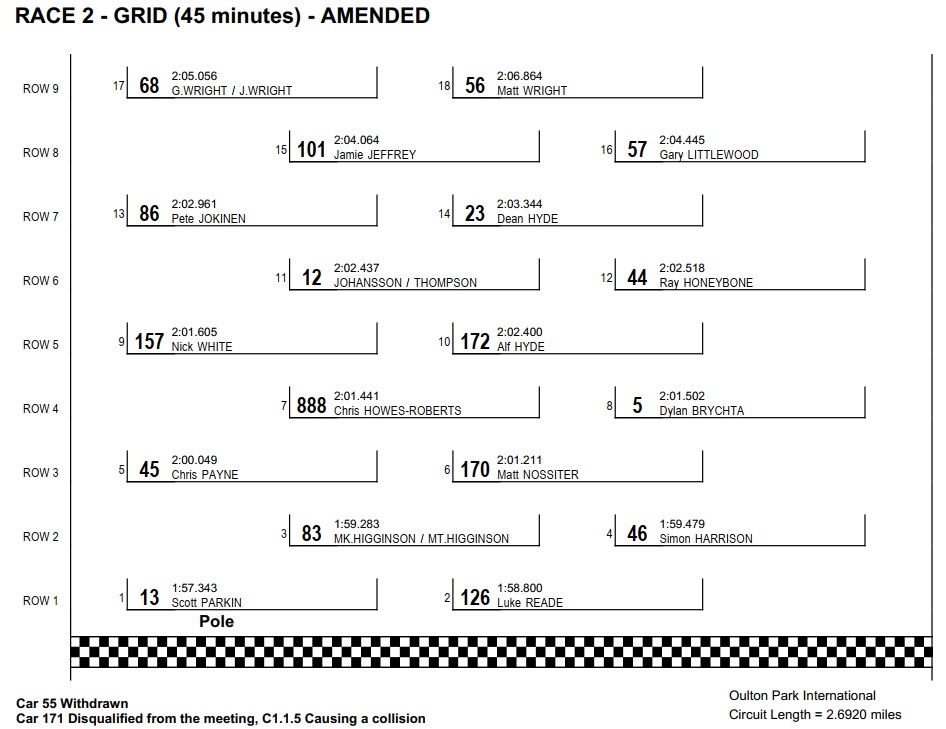 You can watch the full video below, or read the race summary further down the page:

The fastest lap from the race is also below. Of the 15 laps we did, 6 were within 0.3s of this time, so the car was pretty consistent:

So I managed to get a reasonable start. Initially off the line I did not go full beans as I was trying to avoid wheel spin. Once we were into 3rd, the car seemed to pull away from everyone except Chris in the pink Caterham, who as always had a cracking start, placed his car well on the inside and got his nose ahead into the first corner.
I knew the Caterham would struggle to get temperature into it's tyres in the early stages of the race, so I needed to get back in front as soon as possible. Not easy on this bumpy, twisty and flowing circuit!
The first few corners he was definitely holding me up, but as he gained confidence we were pretty much on par. Over the line for the first lap, there was 0.237s between us, and 0.556s back to Luke Reade in the 130i.
Into Turn 1, I carried much more speed as Chris was on a defensive line, and I have to brake much deeper into the corner, allowing Luke to close the gap and almost get around the outside into Cascades (T3), but I managed to keep him behind me and still stick with Chris.
Meanwhile Dylan in the TDI Ibiza had a storming start as always, jumping from 8th to 4th on the first lap.
Through Druids I got a decent run on the Caterham, I stuck on the left side to give me the outside line into Lodge, which would compromise Chris' straight line speed. I switched back and managed to get in front to be 0.237s in front over the line.
Over the next lap I pulled away, managing to get a gap of just over 1s on Chris, who was 1.2s in front of Luke in the BMW. I just needed to keep this pace up and we should have had an easy ride. It was not meant to be as the next lap someone hit the tyre wall, bringing out the safety car and bunching the pack up again. That 1s lead I had managed to pull out was gone!
Realising that Chris would need to carry a lot of speed through the final turn at the restart, I waited until we were round to start accelerating towards the line, maintaining a gap of 0.585s.
Chris had gained a lot of confidence in his car, and was carrying a lot more speed through the corners, meaning it was difficult to gap him.
The pit lane was now open (30 mins into the race) but I figured while I had a clear track in front, and I was not defending too hard from Chris, it made sense to stay out.
As I turned the last corner, the Gearbox decided not to change down from 4th to 3rd, so I lost some time allowing Chris to get alongside down the straight, but I switched back on him into turn 1 and kept the lead.
While I was battling up front, Dylan in the TDI Ibiza had started to drop back from 4th due to engine issues, which eventually caused him to retire from the race. If he had been able to finish, we might have had two Darkside cars on the podium (if we had a celebration!).
I left it as late as I dared for the pits, with the window closing at 15 minutes to go, I came in at 18:30 remaining. With a 2 minute lap I could have done 1 more, but you never know, an off or safety car might have pushed me over. I also secretly hoped Chris would forget the next lap round and gift me the win!
New regulations say we need to do a minimum stop of 2:30 instead of 2:00, from Pit Entry line to Pit Exit Line. We did the stop comfortably and I went back out onto the circuit into No Mans Land, since Chris had come into the Pits while I was stopped.
Ray Honeybone in the Clio, a Championship contender last year, missed the pit window so went up into 1st place, but would have a penalty applied after the race. As a result of all the messed up pit stops, we were showing as in 6th, 5th and 3rd place in the final minutes of the race, which worried all the guys in the pits and at home!
With just over 8 minutes to go, another Clio had a spin right in front of me and I managed to avoid it, then as I cross the line, the safety car is deployed for another incident. A minute later the race is Red Flagged so ended early. This meant I had no idea what position I was in at all, since TSL was showing 3rd.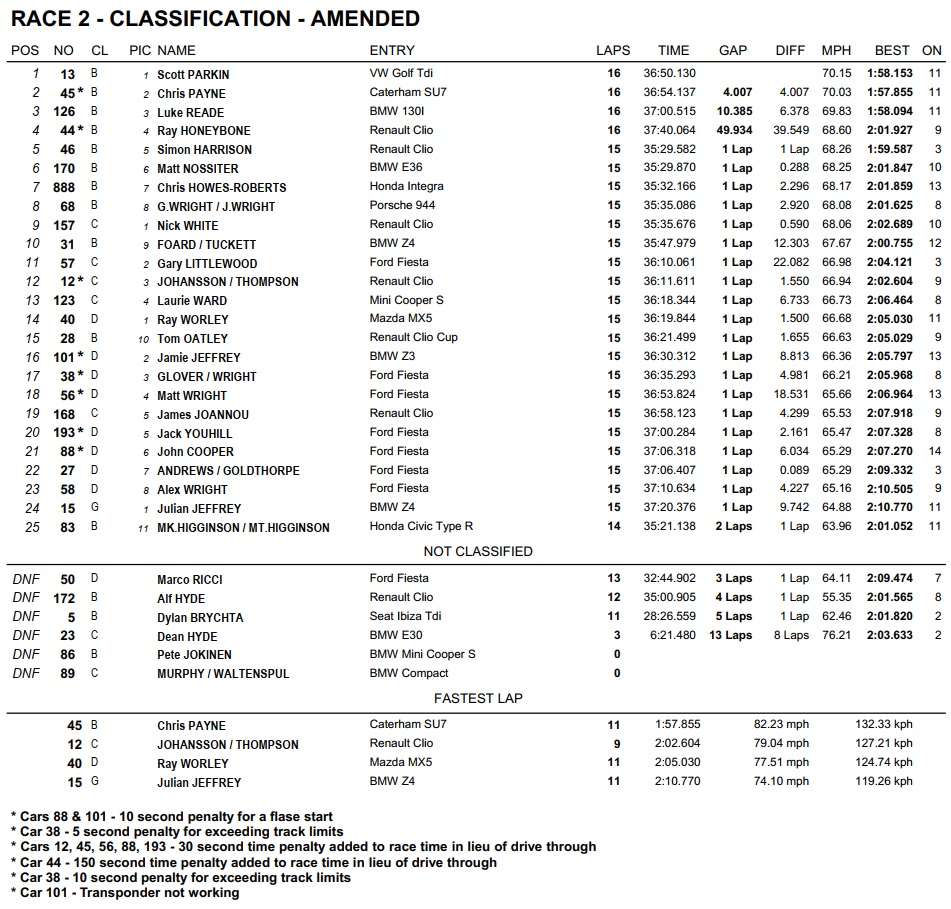 New regulations say we need to do a minimum stop of 2:30 instead of 2:00, from Pit Entry line to Pit Exit Line. As you can see below, I was slightly too slow at 2:32.524 (which in the end was 2nd quickest of those who did it correctly!), but in a stroke of luck for me, Chris had messed up, doing a 2:00 stop, so 30s too short. This meant he was given a 30 second time penalty (which was pretty lenient, I would have expected more as in the race it would have been a 30s stop/go, which costs at least 50s), demoting him to 2nd and me to 1st place!
Looking at the data, Chris was only 24s in front, so had he done a full stop, I would have still been in the lead by ~6s, but who knows what would have happened! Either way, I converted the Golf's first Pole into a Win! We were over the moon!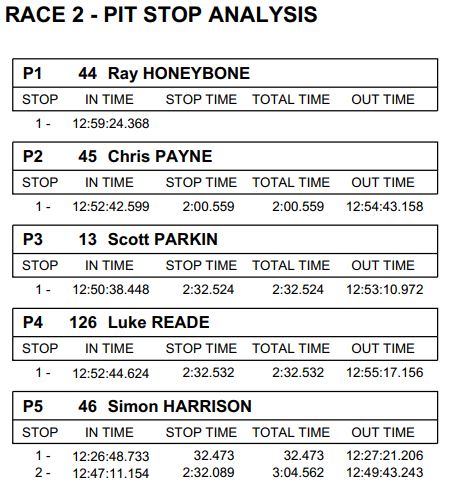 The Golf was pretty consistent through the race, punching in laps of ~1:58 most of the way through. Slightly slower than the Qualifying times, but the temperature was much hotter in the race, which won't have helped the engine or tyres!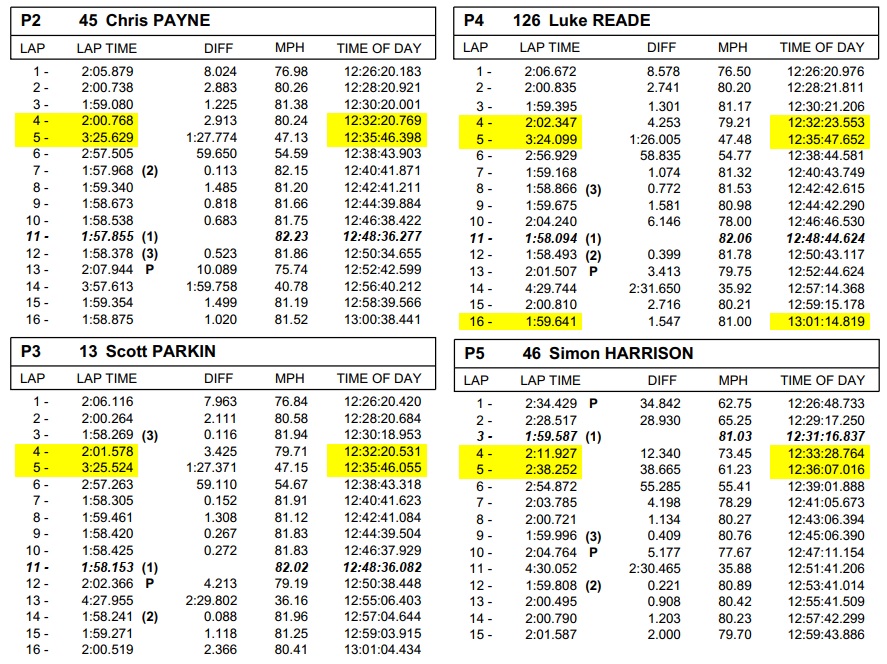 EnduroKA Qualifying and Race
On to the KAs, we had an absolute shocker of a qualifying at Snetterton, but had found a lot of small problems with the car since then that would have been hurting our straight line speed (when you only have less than 70bhp, every one counts!). As we had tested on the Friday, we knew we were not miles off the pace, as Ryan had managed to get into the 2:24s, which was slightly quicker than we had during testing the previous year in the Pink Moores Motors 92 Car.
Qualifying was between the TDC Quali and Race, so we were pretty busy getting the car ready for that, and the KA needed to be at the assembly area before my session had finished, so it was decided that Pete would go in the car first and get a decent stint in, since he had never driven Oulton before! Ryan went next then I was in the seat with plenty of rest after the TDC Qualifying.
As you can see from below, there were a lot of laps deleted for track limits during quali. In the race, the penalties for track limits can start to add up, so we knew some of the teams were going to start losing track time with Stop / Go's for infringements.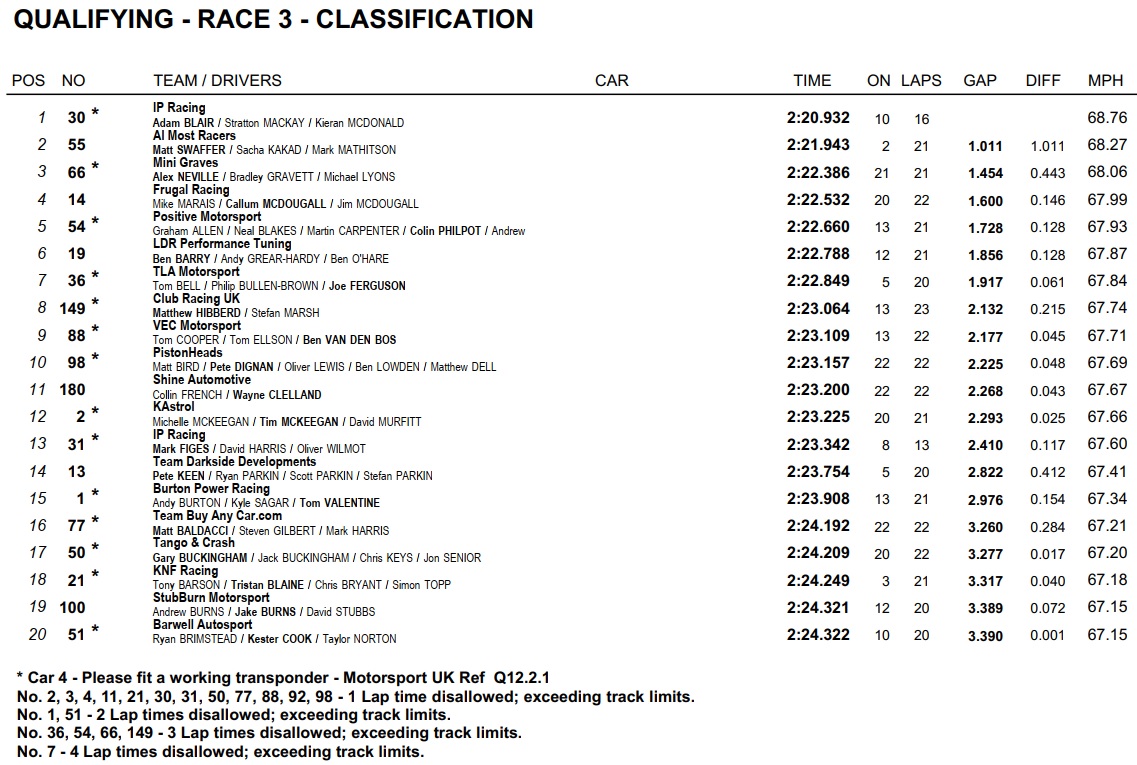 Considering Pete had never done Oulton, he set two of the quickest laps for us, and Ryan did the 3rd. Since neither of them are writing this blog, I can get my excuses out (all us racers have them) but the weather improved dramatically during the hour session, plus we refuelled during the session, so I believe Ryan and Pete were in a better position to do a good lap time. And a rabbit kept running out on the track in front of me when I was on a quick lap.
All joking aside, we had a great session, and there was less than 0.5s between us, and I am sure we would close that gap as we had more time in the car during the race. As with all endurance races, consistency is the key, not just 1 quick lap.
One point to note, we were P14 with a 2:23.754. No 30 IP Racing on Pole did a 2:20.932, which is 2.822 quicker. A big spread to say all the cars are identical! Another point, pole was a full second quicker than 55 Al Most Racers in P2!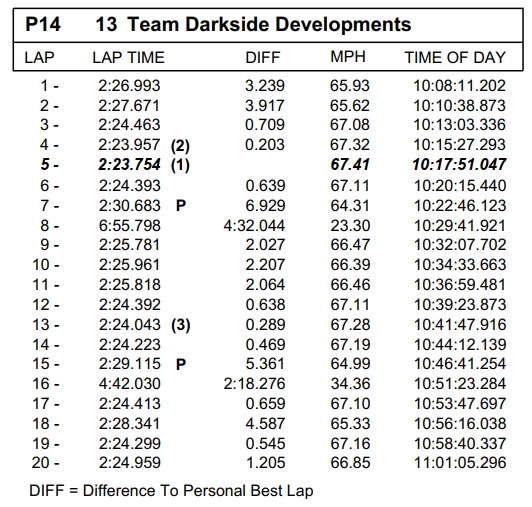 Ryan elected to do the first stint. With 5 hours and 3 drivers, and an ideal stint time of ~2 hours, someone was going to have to do a short stint, but we all agreed we would do what was best for strategy, not maximum driving time for ourselves. We would need to stop at least twice to driver change and refuel, but the regs state that a minimum of 3 stops would need to be made.
As with all KA races, it was a rolling start. Despite telling Ryan it is not won on the first lap, he went from P14 to P9 in the first lap, got to P7 in the 2nd lap, then by Lap 4 was up to 6th just as the Safety Car was deployed.
It was at this point that we, along with most of the leaders jumped into the pits for a 'free' pit stop behind the safety car, as we can come back out of the pits and catch the back of the pack. As the lap is a long one at a snails pace, we did a quick splash of fuel just in case then sent Ryan back out. Stop 1 out of the way!
This dropped us to 26th position, and our WhatsApp was going mental with friends and family watching TSL at home wondering what had happened!
All was well, and by the 1 hour mark, we were in 21st position with Ryan still in the car.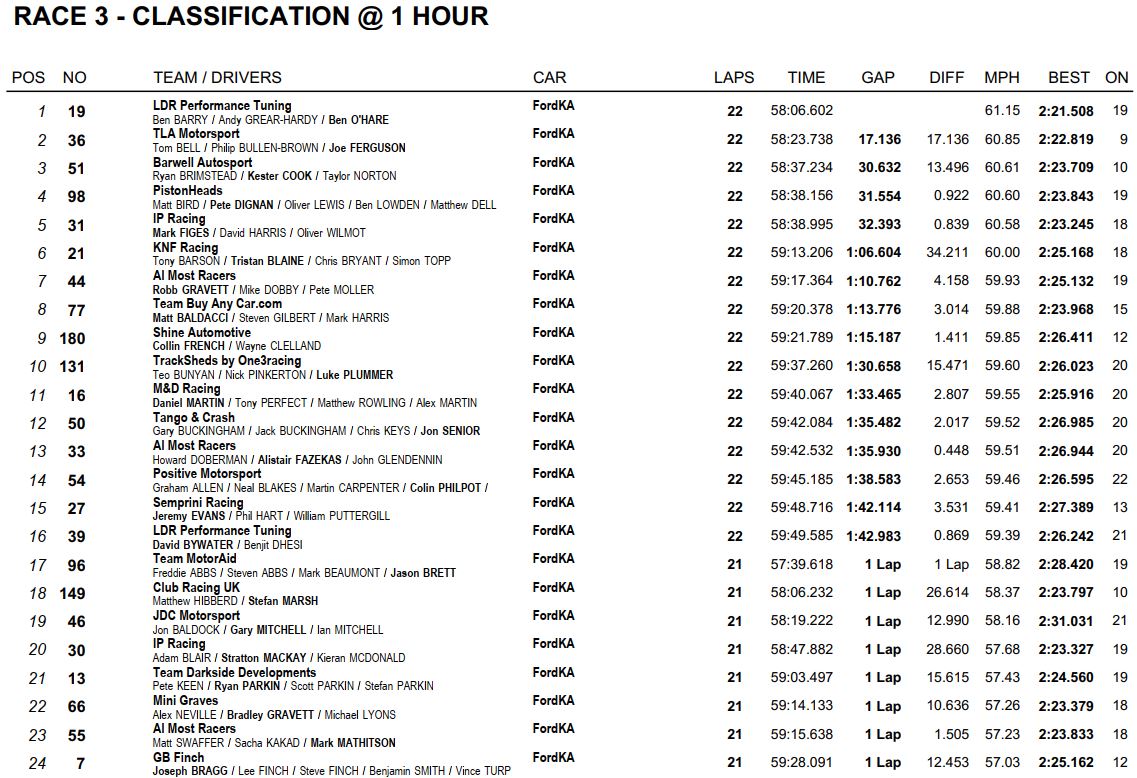 Just over 1 hour into the race, there was a 2nd safety car. We decided this was the time to swap drivers, again as you lose much less time overall when the safety car is out. Any driver change stops must be a minimum of 4 minutes so we lost just over 1 lap.
I was in the car now, in Endurance Racing no man's land again. With everyone on different strategies it is impossible to predict where you actually are, but 2 hours in, we were up to 12th position, and only realistically needing to make 1 more stop at around the 3 hour mark. As Ryan had stopped quite early, we had to be careful with driving times, as a driver cannot be in the car for more than 2:10 continuously, and that includes the 4 minute pit stop time, so you can only have 2:06 on track maximum.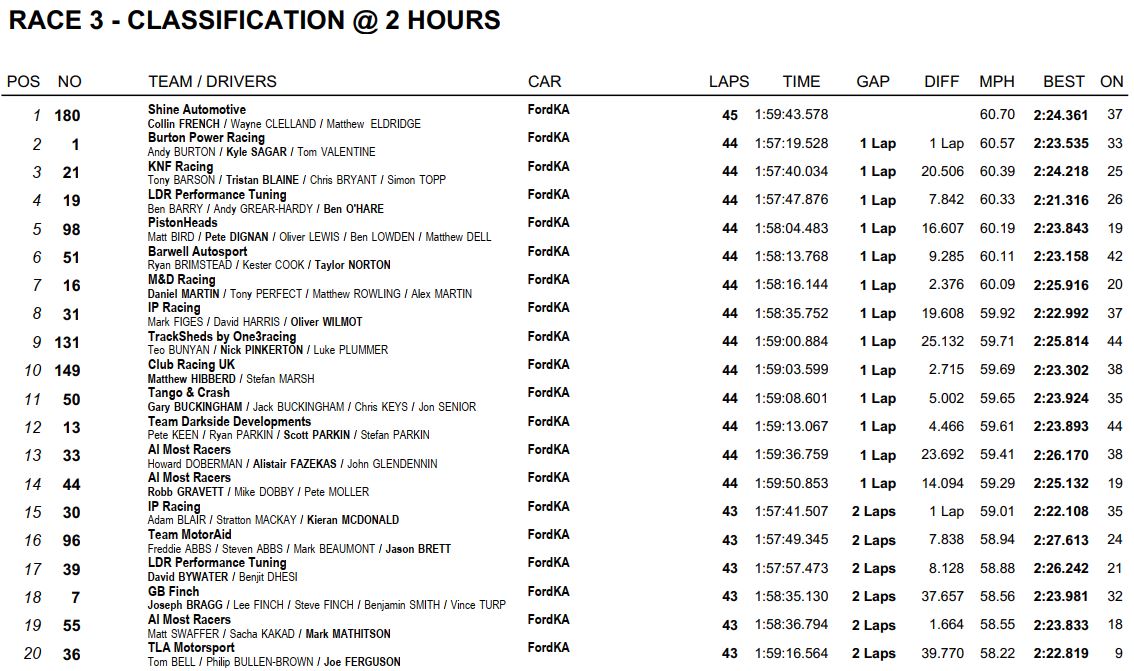 Part way through my stint, I clipped the tyre barriers at Hislops (the 2nd chicane) which knocked the wheel out of alignment and caused a fair bit of understeer through the right hand bends, of which there are many on a clockwise circuit! I was managing the tyres as best I could, but as I turned into Druids, the car washed out massively. I carried on down the straight and turned into the final corner, Lodge and it understeered again. Sensing a puncture, I decided not to risk another lap and came into the pits.
I didn't realise the guys had not heard me on the radio, and I arrived at the garage with some confused looks. I was way too early for a driver change. The guys checked the tyres and suspension, could not find any issue, so changed 3 wheels and sent me back out. We lost ~2 minutes in the pits. What the guys didn't tell me on the radio was at that point, we were in the lead of the race!
With around 2 hours to go, I pitted for Pete to do his stint. With the tyres and fuel consumption, as long as we had no other issues, he could carry on until the end.
No idea why there is no 3 hour classification, but at 4 hours, we were in 3rd and only 18s behind the leaders, and 1.994s behind second place! Had I not done the stupid pit stop, we would have been in 1st still!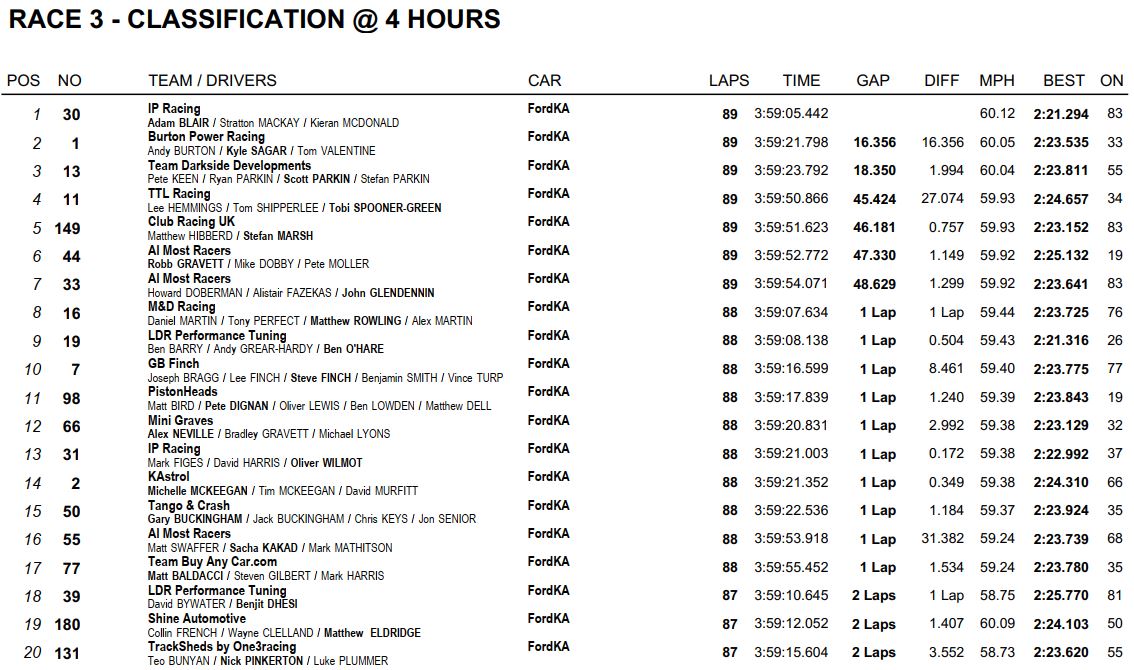 Very early on in his stint, the No 19 LDR Car, driven by Ben Barry was passed by Pete on the straight coming into Lodge. For no reason at all, he hit the rear wheel of our car, sending Pete spinning into the gravel. He was lucky to not hit the barrier and not get stuck! Eventually the team were given a 1 minute Stop / Go penalty for causing an avoidable collision.
Pete put in a great stint, keeping the lap times at a consistent pace and not making any mistakes. As we neared the end, it was looking like we would be on for a podium at least, as we were catching the guys in front, but the guys behind us were lapping quicker than we were. It was nail biting stuff.
Over the line we finished 2nd, just over 12s in front of the No 1 car of Burton Power, who in turn were only 4s in front of 149 Club Racing UK. So basically 16 seconds separated 2nd to 4th! We were all over the moon, however, all was not well when the cars were scrutineered in Parc Ferme. The No 30 of IP Racing, which had finished 1:26.651 ahead of us was on the weighbridge, and there was some commotion. It turned out they were 6kg under the minimum weight of 950kg (with driver). This weight is at the lowest possible during racing, so with your lightest driver, no fuel etc. They also still have fuel, so would have been way under if the tank was empty. It took around 30 minutes for the stewards to make a decision, but in the end they were disqualified, and we inherited the win! Not the way we want it to happen, but as we mentioned previously, their lap times were suspiciously quicker than everyone else, so it makes you wonder what else was being done to the car to gain an advantage? Either way, perseverance paid off, and we won! This promoted Burton's to 2nd and ClubRacingUK to 3rd!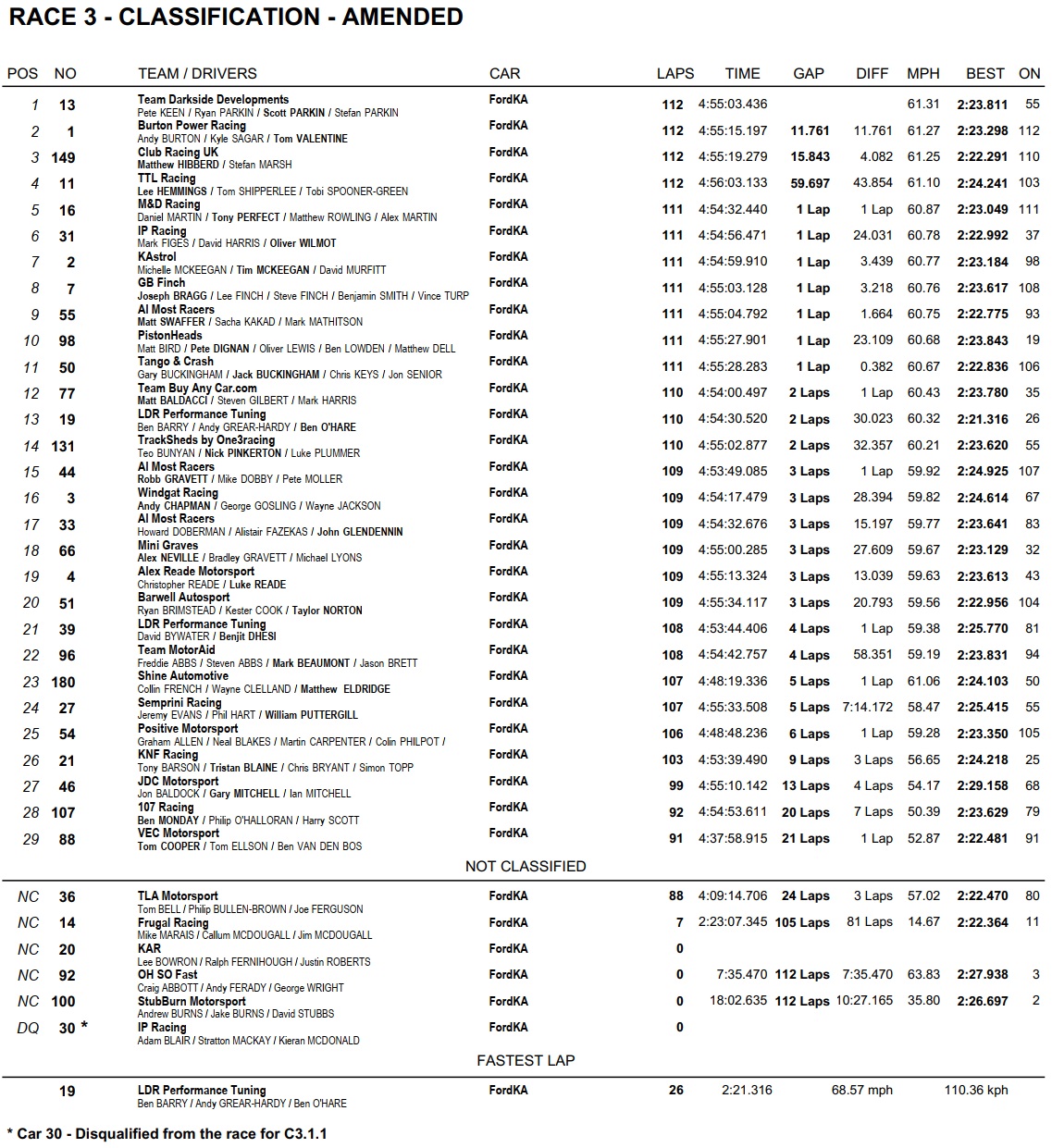 We won't bore you with a 5hr video of the KAs (trust us, it is much more fun being in the car than watching), but below are a few of the notable moments of the race, condensing it down to 20 minutes!
Thanks to all the team again, they worked tirelessly to make sure the Golf was in a fit state to race on the Saturday, and it paid off, then they all nailed the strategy to bring home a hard fought win in the KAs against all odds!
TDC photos by - Mick Walker
Check out the Club Racing UK Podcast on BuzzSprout or YouTube
Recent Posts
The first round of the 2021 Season of the MSV Trackday Championship and MSV Trackday Trophy was at o …

The 3.0 Diesel N57 Engine found in most of the F Series (and some of the E Series) BMWs is highly tu …

We're still not sure why VW have never produced a sporty (GTI / GTD) version of the Caddy van, but f …