With 2019 in full swing, we prepared our Ibiza TDI for the new racing season. The spec didn't really change that much from what we developed by the end of last year, we have some new 343mm 6 Pot Front Brakes and red paint on the front end finally!
After competing in a few races of the MSV Trackday Championship last year with a mixed bag of results, with a 5th place at Brands Hatch GP and almost a 2nd Place at Silverstone, we decided to commit to the full season. We are also going to run in some of the MSV Trackday Trophy races, like we did when we finished 3rd at Rockingham in September.
The rules are fairly relaxed for both series, and a diesel car can still give the petrol cars a run for their money. It also works well for 2 driver teams, as it is a 45 minute race with a mandatory 2 minute pit stop, which allows for a driver change. We decided that I will run alone in the TDC, and Ryan will share the drive with me in the TDT races.
The class structure is based upon Power to Weight ratio which is a very good way of keeping different cars on a level playing field. With only a few minor changes to the cars specification from its usual 'Track-Day' guise, we were ready to race!
More info about the TDC can be found on their website - http://www.trackdaychampionship.com/about-tdc/
Classes: Class B: 151 – 175 bhp/ton
Class C: 126 – 150 bhp/ton
Class D: Up to 125 bhp/ton
We are in Class B. The regulations for the series are reasonably relaxed, so that most cars that have already been used for track days will be eligible:
Meet the basic MSA standards for safety
Minimum weight of 600kg (post race and with driver)
Tyres must Toyo R888 (GG Compound) or R888R
Forced Induction cars (Inc Diesels) under 2000cc - Fitted with 30kg of Ballast
Cars with a Sequential Gearbox - Fitted with 30kg of Ballast
4WD vehicles are not permitted
Round 1 brought us to Donington Park, which brought back painful memories of standing on the pitwall, waiting to take over driving to see the car limping into the pits to retire. We were determined not to let history repeat itself!
We set up on Friday evening and left the circuit to chill and have an early night!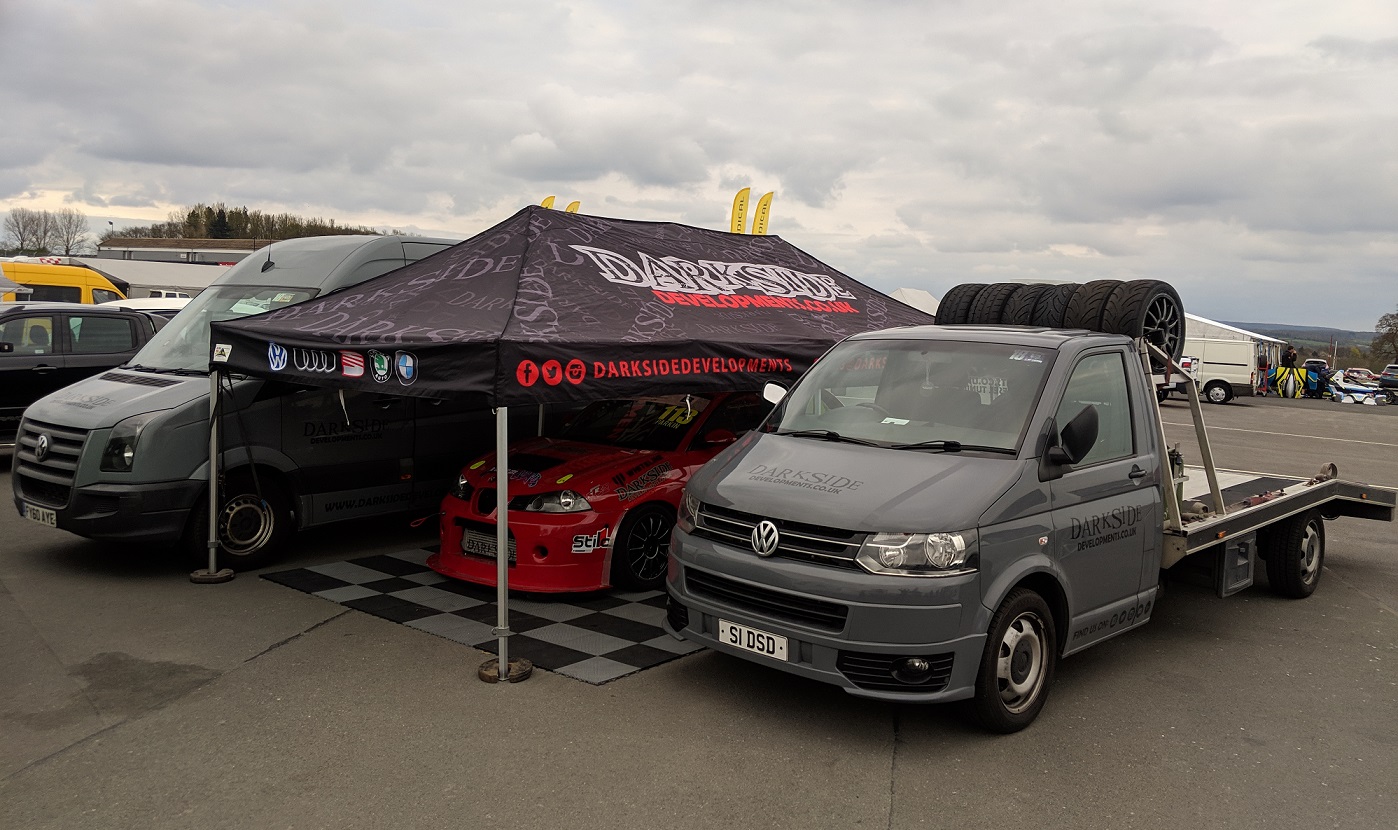 The next day it was pretty cold and cloudy, so no chance of the track temps coming up to anything reasonable. Tyre temps were going to be an issue!
We have to do a minimum of 3 laps due to MSA Regs stating that a driver must have practiced or qualified in a vehicle that they are to race in. So I should have taken it easy on the first few laps. The car felt great so I pushed a bit too hard, and ended up in the gravel!
This meant I needed to get recovered from the gravel at least. I was going to rejoin the circuit but a marshall stopped me and said I was losing fluid. Not good with the clock ticking!
Into the pits and we diagnosed the leak was coming from the front mounted Fuel Cooler.
Bent Fuel Cooler
Professionally repaired bumper
The team were fantastic and managed to loop out the cooler and get me back on track. A safety car while I was recovered and a red flag for another incident meant that we still had around 15 minutes of qualifying left. I needed to push hard!
Here is a video of my Fastest Lap - 1.21.92 which was enough to secure P3 for the race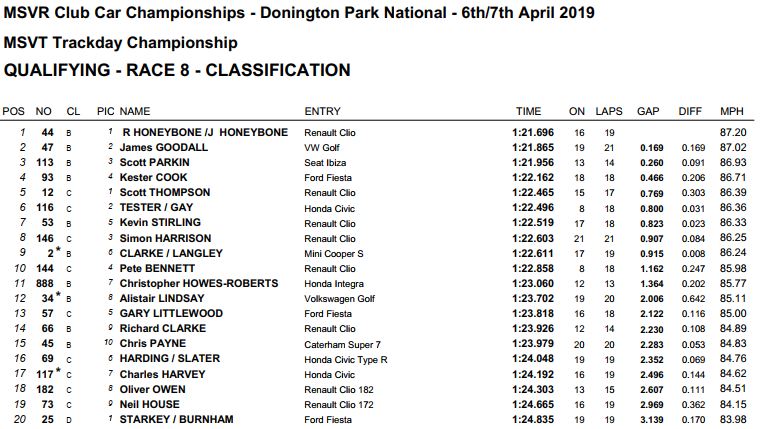 We had a big gap between qualifying and the race, so we were able to give the car a good going over and ensure that it was 100% for the race. Footage from both stints are below
So 3rd to 1st by turn 1. It was the hardest race of my life, with what felt like 90% of my time looking in the mirrors! I took a bump in the rear by the Renault Clio of R & J Honeybone on lap 3 into Coppice, after Ray went for a lunge down the inside. This almost spun me off and dropped him back several places.
I held the lead right the way up to the pit stops and came in for the mandatory 2 minutes. We seemed to time it to perfection, with my timer showing bang on 2:00 when I crossed the Pit Lane exit line.
I came out behind a Renault Clio that was in our Class, but 2 laps down due to an earlier gravel incident, which gave me a good battle, but towards the end started to hold me up when his brakes were clearly struggling. I could see on my pit board that the Ford Fiesta of Kester Cook was closing in on me, so I knew I needed to keep up the pace. Luckily the chequered flag came before he did, so my first ever race win was mine!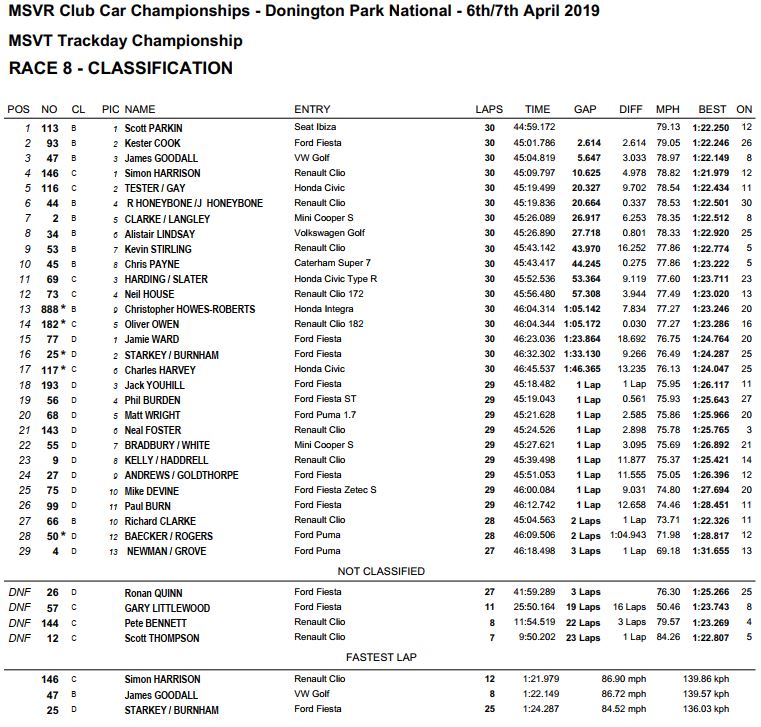 MSVR post photos from the weekend on their Gallery Page, a selection of which are below:
Quite a few of the other drivers also post their videos online. Skip to 6:05 of the Clio if you want to see a friendly nudge, and the Fiesta stalled it on the line and still managed to get up to P2, a fantastic result! Colin Tester in the Class C Civic did great to qualify in the middle of a pack of Class B's, and gave me a run for my money for the first 20 minutes of the race!
44 - Renault Clio - R HONEYBONE / J HONEYBONE

93 - Ford Fiesta - Kester COOK

116 - Honda Civic - Colin Tester / Sam Gay
We also competed in the MSV Trackday Trophy, you can read our blog post HERE. It was a little more eventful than the TDC Race!
Thanks to all the team who helped out in the preparation of the car, and supporting me during the weekend. I couldn't have done it without you, and hope that the win made all the blood, sweat and tears worthwhile!
If you are interested in joining us at the Birkett Relay in October, take a look HERE.
Recent Posts
The first round of the 2021 Season of the MSV Trackday Championship and MSV Trackday Trophy was at o …

The 3.0 Diesel N57 Engine found in most of the F Series (and some of the E Series) BMWs is highly tu …

We're still not sure why VW have never produced a sporty (GTI / GTD) version of the Caddy van, but f …