A different start to the day for the A5 project. As our Dyno Dynamics 2WD system is not capable of running the Torsen Quattro, Ryan, James, Paul and Danny set off to meet up with our friend John Sleath - http://www.john-sleath.com/ - in Doncaster.
We used John's dyno many times when Darkside Developments first started and the now infamous Jetta's 300bhp graph was produced there. John saw the development of that project from start to finish and was always impressed with the figures and reliability we were able to produce.
Maybe that was what changed John's Diesel perception and spurred him to build his crazy 8 second Drag racing Truck?? - Its a fully spaceframe Chevy S10 with a V8 Duramax with a huge Compound Turbo Setup.
It was a cold winter morning, so it was no bad thing that the car was running the standard ECU file, 20hp was too much for the roads :)
After a little time playing with the strapping, gearbox and dyno settings, the car managed to kick out a healthy 228bhp @ 4000rpm & 355Ft/Lbs @ 2000rpm. This is a little short of the factory claimed 240bhp and 369lbs, but as we discuss in our Dyno Blog, its the changes between runs we are looking for. Take a look at this graph from an Audi A5 3.0 TDI car run on an older DD AWD Dyno at a well known and respected company: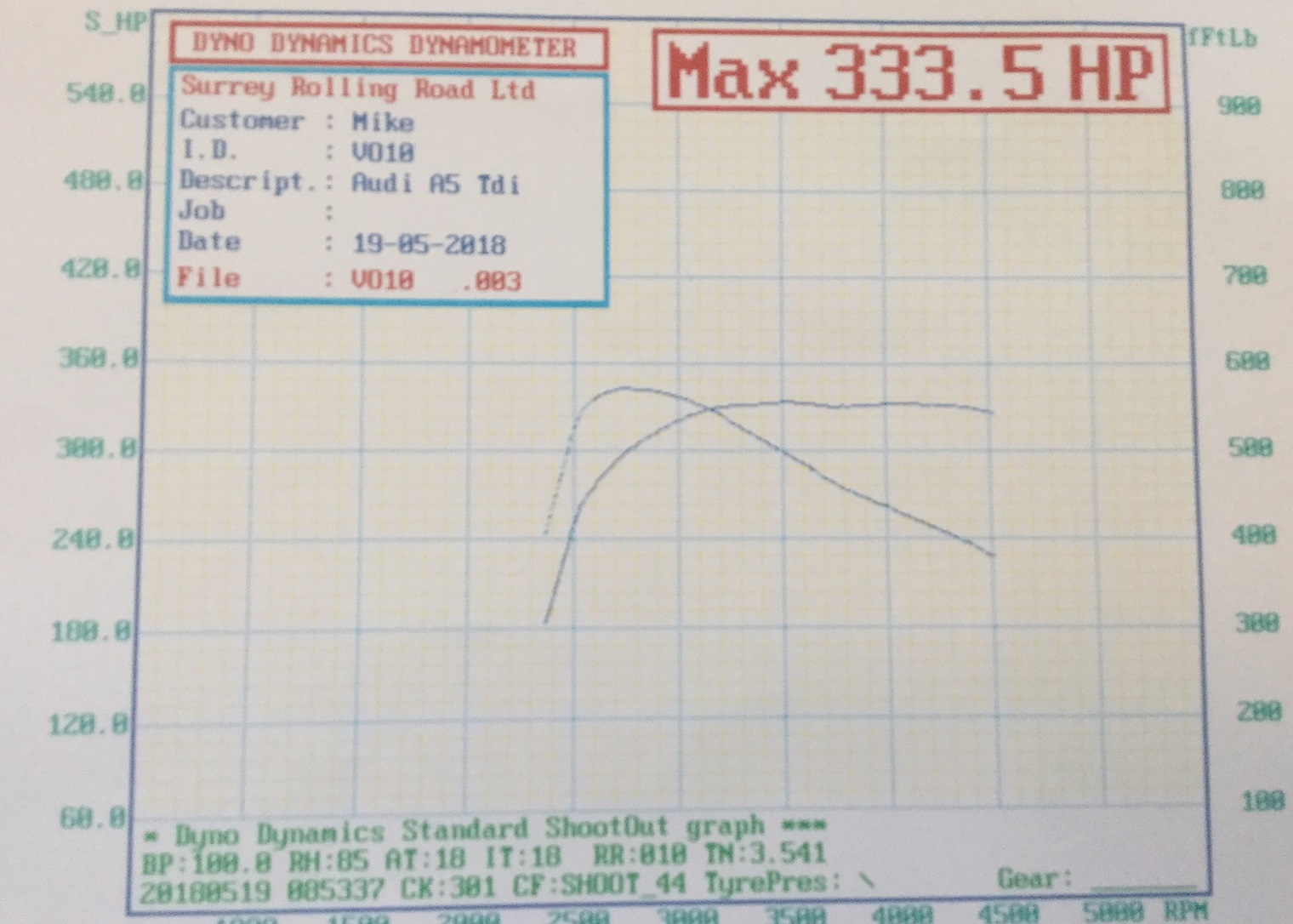 333bhp and over 550Ft/Lbs from a stock CCWA Engine with just Swirl Flaps deleted?
We ran all our runs in Shoot 6F Mode, whereas the above is done in Shoot 44. If you refer back to our Dyno Blog, you can see comparisons of modes.
Our car at this point had the DPF removed and a 3" exhaust, as detailed in our previous Blog. We have discussed many times that when functioning correctly, the DPFs offer little to no restriction and the larger capacity engines (2.7 and bigger) are not as known for blocking up for fun as the smaller engines.
The boring bit out of the way we needed to get our custom tune that was refined on the road loaded on there, knowing the fuel pump is struggling even with the stock turbo we never expected world record figures, the earlier engines CP1H Fuel pump is more capable than our cars CP4.2 but both are still not as good as the even earlier CP3. 10 minutes later with the new tune loaded we managed 283bhp @ 4000rpm & 445Ft/Lbs, a not to be sniffed at 55bhp and 76lbs increase! For a look at what difference this make in the real world take a look at our Vlog and Blog.
For every test we needed to make at least 3 runs for the power to stabilise.
We also had another trick up our sleeves in the form of Water injector or Water/meth as it can commonly be known. We wrote another Blog and also made a video of the installation.
At the flick of a switch we managed to gain a further 12bhp giving a total of 295.9bhp on the standard turbo. This comes at a price with more visible smoke from the tailpipes, further anaylsis of the logs will show what other gains we have seen.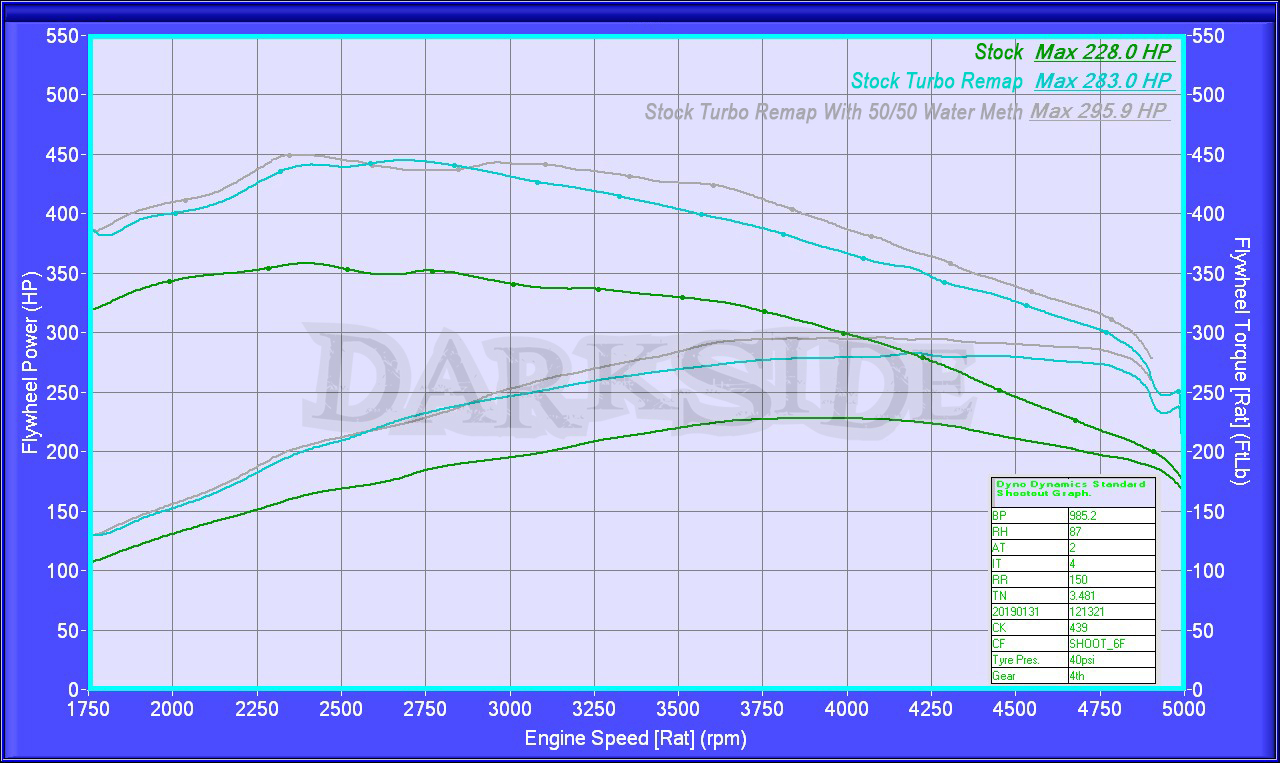 Next job was to fit the GTD2872VRK Turbocharger, a bold move while still strapped to the dyno but needs must, and there is no more accurate way to carry out back to back testing then leaving the car un-touched and controlling only one variable.
With the turbo and a quick tweak to the software, we managed to make 316bhp and 332bhp with the methanol injection. What was most noticeable was the torque (460Ft/Lbs). Even at low RPMs it was never below the stock figure, and only loosing out marginally below 2500rpm compared to the tuned GTB2260VK, always a good sign with a bigger turbo.
After fitting the larger turbo and with the increased boost pressures, we noticed that we were seeing 60 degrees Inlet air temperatures (IATs) despite only being 5 degrees ambient. We didn't expect much of an improvemnt by fitting a Front Mounted Intercooler (FMIC) but we had the parts and a Paul there, so it was rude not to try. Some bolts were already removed in preparation to speed up the process.
After installation we saw a reduction in charge temperatures of 15 degrees which without water injection gained 8bhp & 15Ft/Lbs of torque as well as spooling the turbo a little quicker, not bad at all.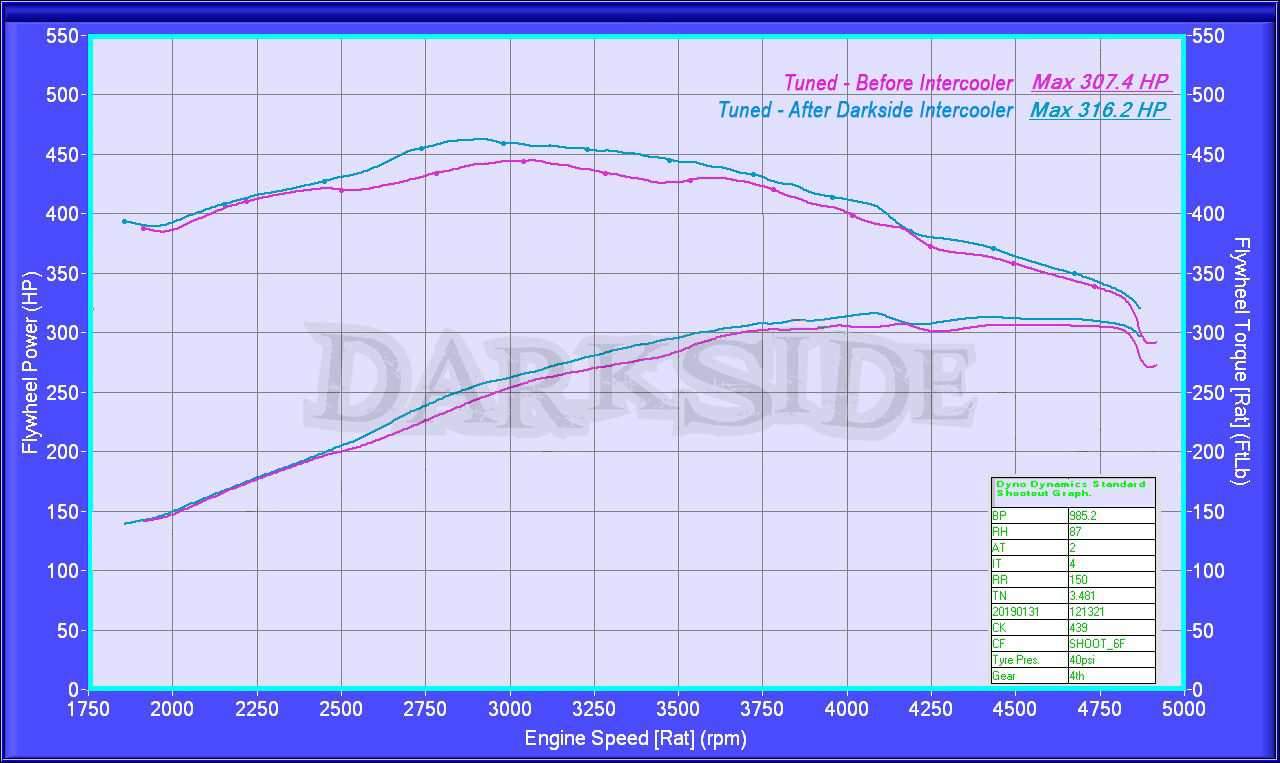 With the water injection the gains doubled to 16bhp giving a total of 332.1bhp and 417Ft/lbs (FYI - When discussed on the video Ryan talks about the 307bhp and 315bhp curves that were with no Water Meth Injection).
We have FMIC Upgrades for both the B8 and B7 Platforms: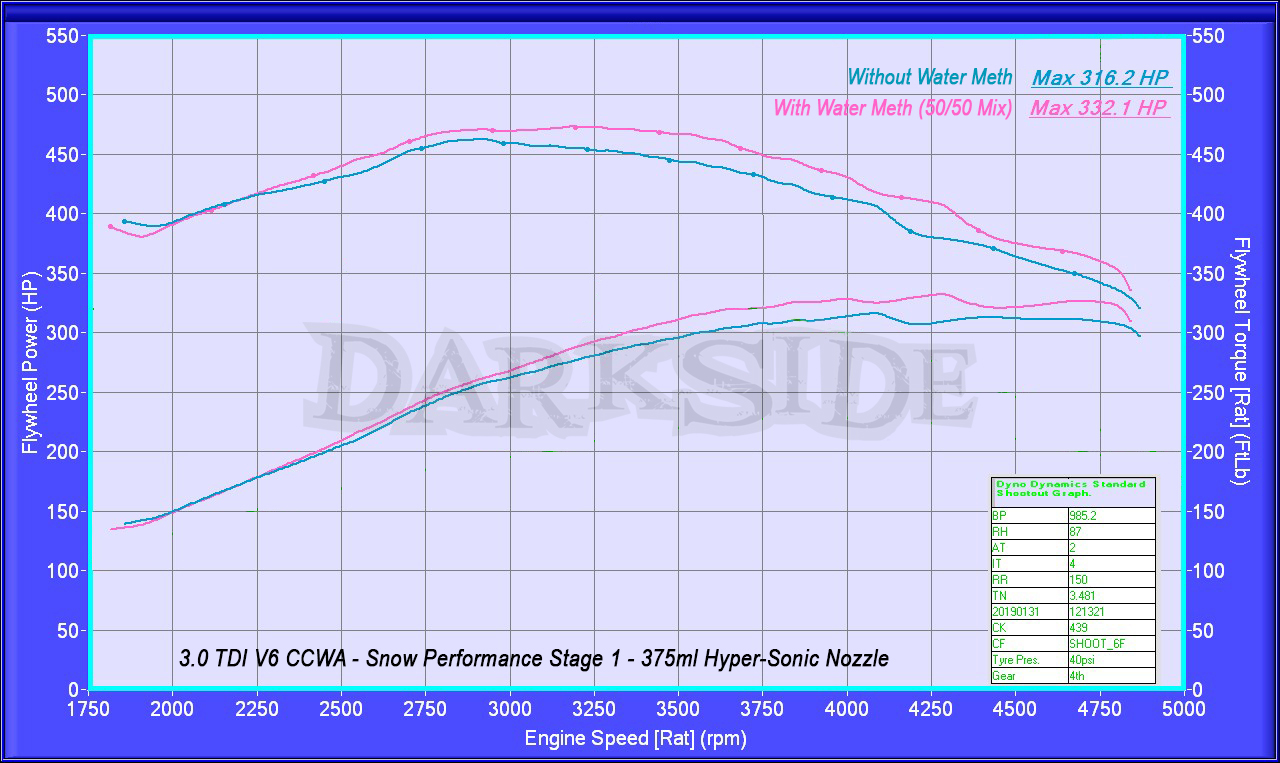 As everything was so positive and each change was making good progress, there was time to make one more change that was a little more experimental but looking at the raw data we had back at HQ, it was a worthwhile test being a quick part to swap. The Fuel Metering valve is the part of the High Pressure Fuel Pump (HPFP) that regulates the quantity of fuel entering the pump's pressure cylinders. From our bench testing we knew we had created a valve that was able to flow over twice the quantity of the OE V6 TDi item. 10 minutes later the car was running with the new Metering Valve. We also flashed a tune that would enter into limp mode as soon as the throttle was pressed hard with the stock Valve.
Bled the fuel system, warmed up and 329bhp & 520Ft/lbs was the result, an increase of 13bhp and a huge 50Ft/Lbs more torque! We still had some Water Meth in the tank so the switch was flicked...
Final Figure - 340.5bhp & 520lbs, a 112bhp and 160Ft/Lbs increase from the standard figures, not bad for a few hours work, some bolt on parts and a bit of dyno time!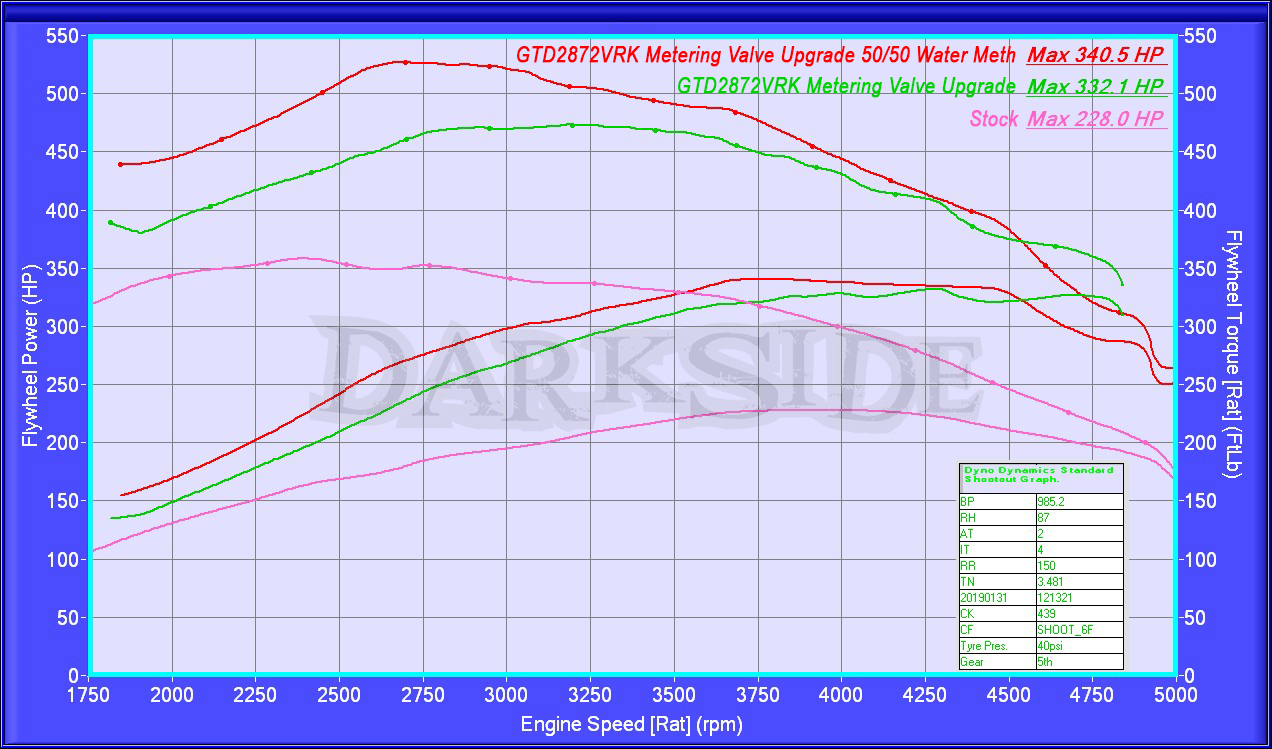 At the moment the turbo is running 2.3 - 2.4 BAR of Boost. When we have sufficient fuelling to bring the Air to Fuel ratio down from the smoke free 18 we have now to around 15 with 2.8 BAR of boost pressure, this will require a Larger High Pressure Fuel Pump. Our choice is a CP3 from the very early 3.0 TDi (and Crafter!) engines, it works perfectly on our Arosa Drag Car and Skoda CitiGo, so why not?
A common misconception among the B8 3.0 Tuning community is the fitment of a larger Low Pressure (well 60psi) Lift Pump that feeds the HPFP will increase the power potential of the engine. This is just not true at all, as throughout our tests the lift pump pressure was always maintained. This might not be the case after our next round of modifications, so keep your eyes peeled for that upgrade too.
Next Vlog - Wheels and Tyres. We have too many...
Full vehicle spec list and links to the products we fit throughout the build - http://drksi.de/AudiA5
Don't forget to subscribe to our YouTube Channel: http://drksi.de/YTSubscribe
Watch our Part 8 Vlog here:
Recent Posts
We're looking for one of our fans to design a slick race livery our new Golf MK5.5 ex VW Cup C …

Round 2 of the MSV Trackday Championship, took us to Snetterton, a weekend we would rather forget. Y …

When Davy @ DRIVEN Automotive Media organised the Performance German Day, he asked if we were intere …